---

---
Dr. Rosalind Raymond Gann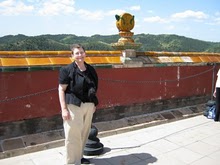 Contact me at gannr@etsu.edu.
---
My interests are reading education, applied linguistics, English as a second and foreign language, and community literacy. I enjoy traveling to other parts of the world, where I teach English, learn the local language, and get to know people. I have worked in Turkey and Mexico. I now teach English in China each summer.
Telephone: 423-439-7596

FAX: 423-434-7596

Email: gannr@etsu
A language will take you in many directions. Explore other languages.
How Do We Learn to Read? Read My Story
C.V.
Handouts, Blountville Reading Conference, May 2010