---
Homepage of David Close
Department of Physics, East Tennessee State University
---
<![if !vml]>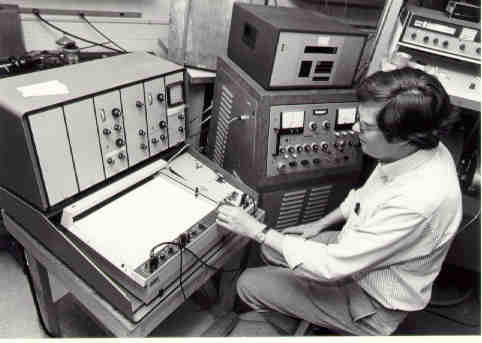 <![endif]>
That's me in the ESR lab, B-24, Brown Hall.
Technical Physics Homework Solutions
---
Curriculum Vitae: OK, so make me an offer I can't refuse.
---
Publications: Most recent, and All publications.
---
---
Consulting:
Over the years I have worked on a number of projects for various companies. One project was to characterize various titanium dioxide catalysts for the Tennessee Eastman Co. in Kingsport, TN. This work involved heat treating and evacuating the catalysts, and then exposing them to gases or organic solvents. The nature of the chemical reactions that occurred on these surfaces was characterized by ESR. A picture of the chemical preparation process is shown here.
I have also done some consulting for the

Osteonics

Corp. In Allendale, NJ.

Osteonics

makes titanium hip joint replacements. To overcome the rejection problem, these devices are plasma sprayed with bone material (hydroxyapatite). The coating is then irradiated for sterilization. The high radiation dose caused the coating to yellow slightly. I used ESR to characterize the nature of the radiation induced defects in the hydroxyapatite coating.
I am currently consulting for the Institute for Energy and Environmental Research in Washington, DC. The Institute seeks to provide the public and policy- makers with sound scientific and technical studies on a wide range of issues. I have helped conduct a number of workshops on assessing the risks of radiation to groups of atomic workers.
---
That's me, Ellen Kennedy (Staff member of IEER) and Arjun Makhijana (President of IEER).
---
Honors, Prizes:
Jürgen Hüttermann (then at Regensburg) challenged the EPR community to find and characterize the guanine cation. He

promosed

a case of his local

Kneitinger

beer to anyone producing ESR evidence characterizing the guanine cation. This was around 1982. Bill Nelson (Georgia State) and I had begun attempts to grow guanine crystals in strong acid. We succeeded in growing several good size crystals of guanine hydrochloride monohydrate and of guanine hydrochloride

dihydrate

(actually from the same preparation). We began the ESR/ENDOR liquid helium and liquid

nitrogens

that summer. Our original experiments were rather

dissappointing

.

At that time I had also begun a collaboration with Einar Sagstuen (Univ. Of Oslo). We talked about trying to repeat our EPR experiments, and succeeded in producing the following angular plot of the ESR data.
---
This is the X-band ESR angular plot of guanine hydrochloride monohydrate, x-irradiated and observed at 77 K, showing evidence of the guanine cation (the weak outer lines of the spectra).
---
When Jürgen saw this spectrum he knew that we had the guanine cation. He delivered the case of

Kneitinger

to me at the Faraday Discussion Meeting in Leicester in 1984.
---
---