Michael Cody, PhD
Associate Professor of English
Department of Literature and Language
Autobiography. Click on the picture to find words and images about where I'm from, how I came to this place, and what goes on in my life both inside and outside Burleson Hall and the ETSU Department of English. I hope this section of the site will continue to be under construction for a long, long time.

C. V. Click here to find my curriculum vitae, a summary of my professional life over the past few years.

Teaching & Classes. Click on the "Apple & Books" to access a list of classes that I have taught here at ETSU. Active links lead to classes I'm teaching in the current semester.

Scholarship. Click here to find information about my research interests and activities. The thumbnail is a sketch of Charles Brockden Brown (1771-1810), an early American author with whom I've spent a lot of time.

Creative Writing. Click here to see samples of my creative work. You'll find short stories and excerpts from longer fiction, my first experiments with writing poetry, and song lyrics (many with PDF files and a selected group with accompanying mp3 files).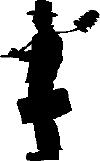 Service. Click here to find out about my service activities at ETSU and in the community.