ETSU's Kappa Mu Epsilon Chapter
TN BETA Chapter, South Eastern Section
Spring 2016 Activity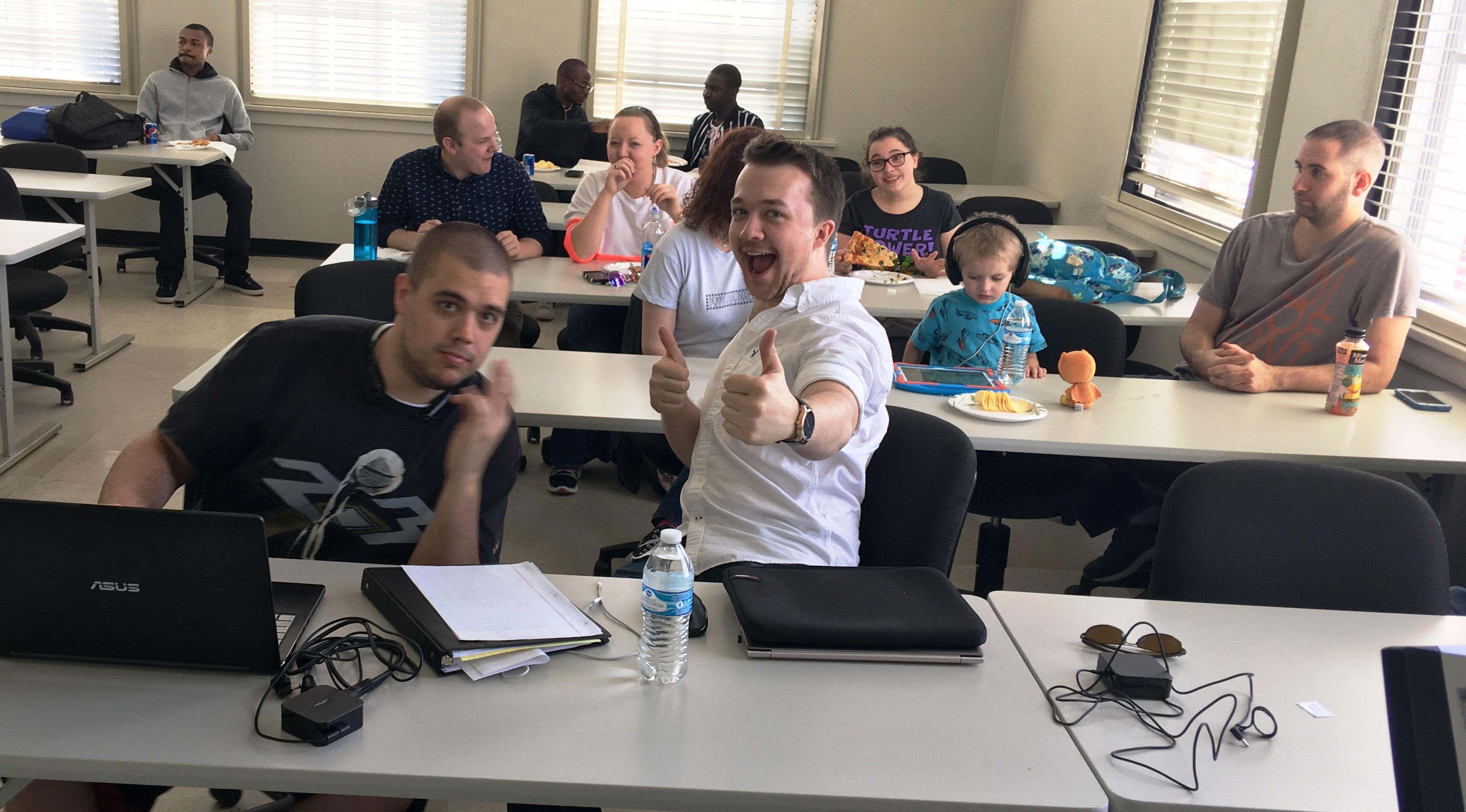 The TN Beta chapter of Kappa Mu Epsilon met on Thursday March 18, 2016. Chapter funds were used to provide pizza from the Italian Pizza Pub and soft drinks from Kroger. Robert "Dr. Bob" Gardner gave a presentation on "The Big Bang and the Shape of Space.'' The meeting agenda/minutes include:
Information on the initiation ceremony was given. The national organization dictates the script of the ceremony which can be found online. The ceremony will be held at the Department of Mathematics and Statistics' Honors Banquet at the Centre at Millennium Park (Room 237A) on Thursday, April 7, 6:00.
The KME Constitution is online here. During the initiation ceremony, new initiates are asked if they will abide by the constitution and bylaws of KME.
Attention was drawn to the Tennessee Beta chapter webpage: TN Beta.
KME members are eiligible to wear pink and silver cords during graduation. If the club is interested in placing a bulk order (see the TN Beta Chapter webpage for details), then the outgoing treasurer (Nathan Molder this year) is responsible for coordinating this.
The obligations of officers is discussed. Dr. Bob announces his desire to step down as co-director effective fall 2016.
Election of new officers was handled by the current vice-president (Ty Frazier). The results of the election are:

President: Ty Frazier
Vice-President: Hannah Green
Secretary: Kyle Murphy
Treasurer: Haley Russell

Dr. Bob's presentation was on "The Big Bang and the Shape of Space."
Posed problems in The Pentagon were considered. The problems are posted online. Any other business will be discussed.

---
On April 7, 2016, the Tennessee Beta chapter of Kappa Mu Epsilon held the initiation ceremony for new members. The ceremony was held at the ETSU Department of Mathematics and Statistics' annual Academic Honors Banquet. The banquet speaker was be John Peach of the Interceptor and Sensory Technology Group at MIT Lincoln Labs. His talk focused on using mathematical techniques to estimate the trajectory and location of objects in which tracking is not available or is compromised. Some examples included estimating the trajectory of the meteor which exploded over Russia and helping locate lost submarines or aircraft. A total of 12 new members were initiated: Devanshu Agrawal, Tiffany Blevins, Kendra Disney, Kaeli Gardner, Sydney Gardner, Jessica Lang, Miranda Lawhorn, Macon Magno, Ashton Morelock, Kyle Murphy, Natalie Murray, Logan Norton. This brings the cummulative number of Tennessee Beta members to 853.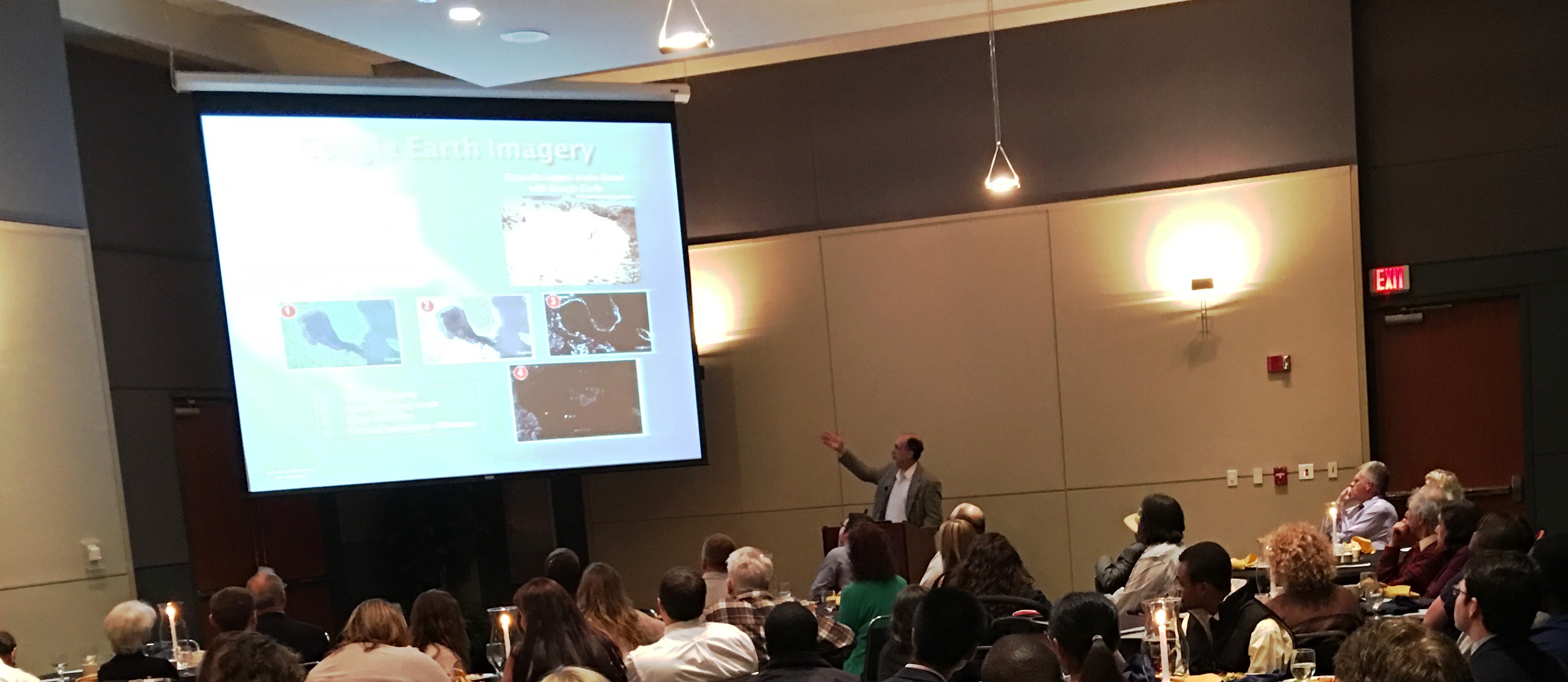 John Peach giving his presentation at the banquet.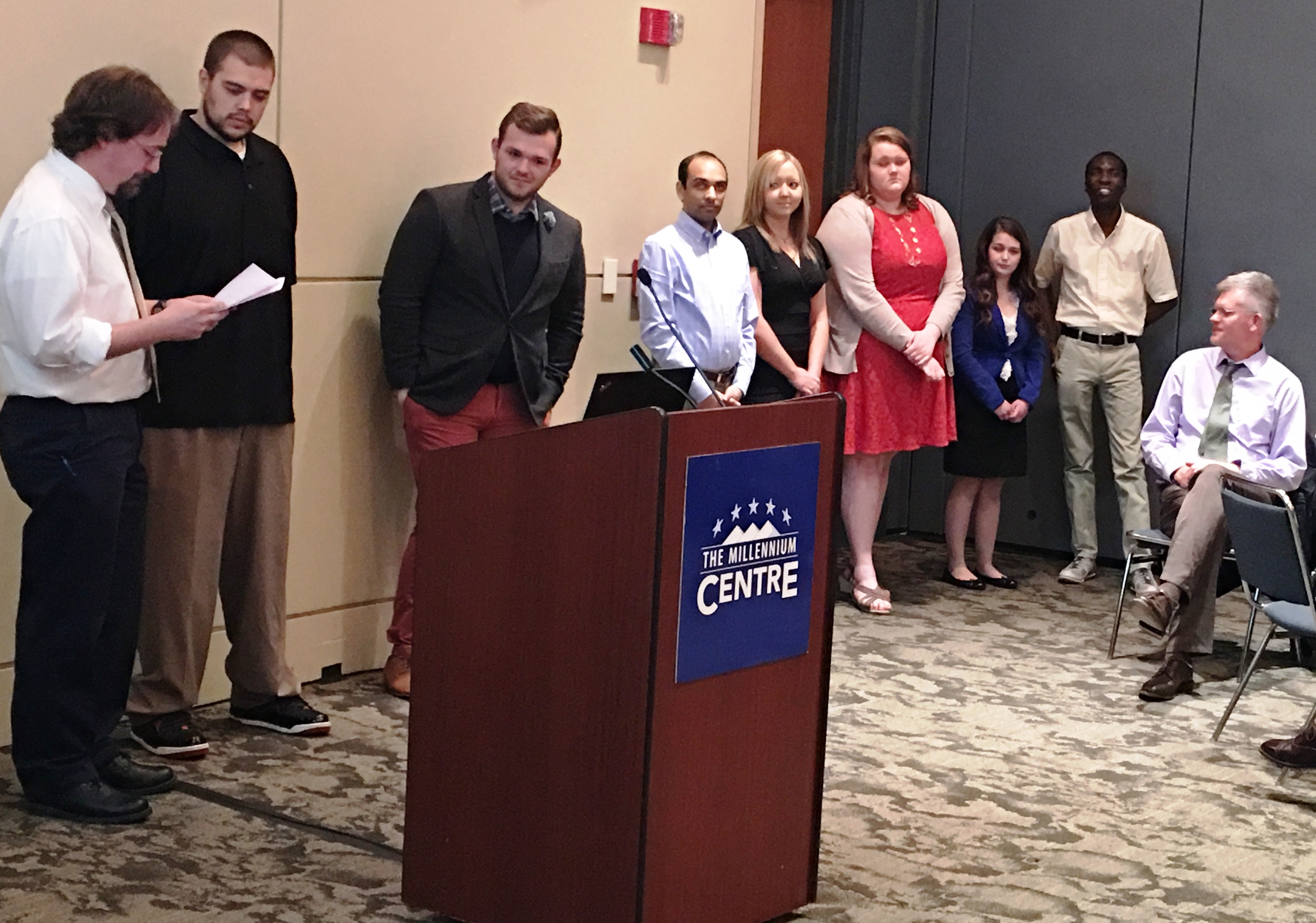 President Chandler, Vice President Frazier, and Secretary Patrick (from left to right) with some of the new initiates.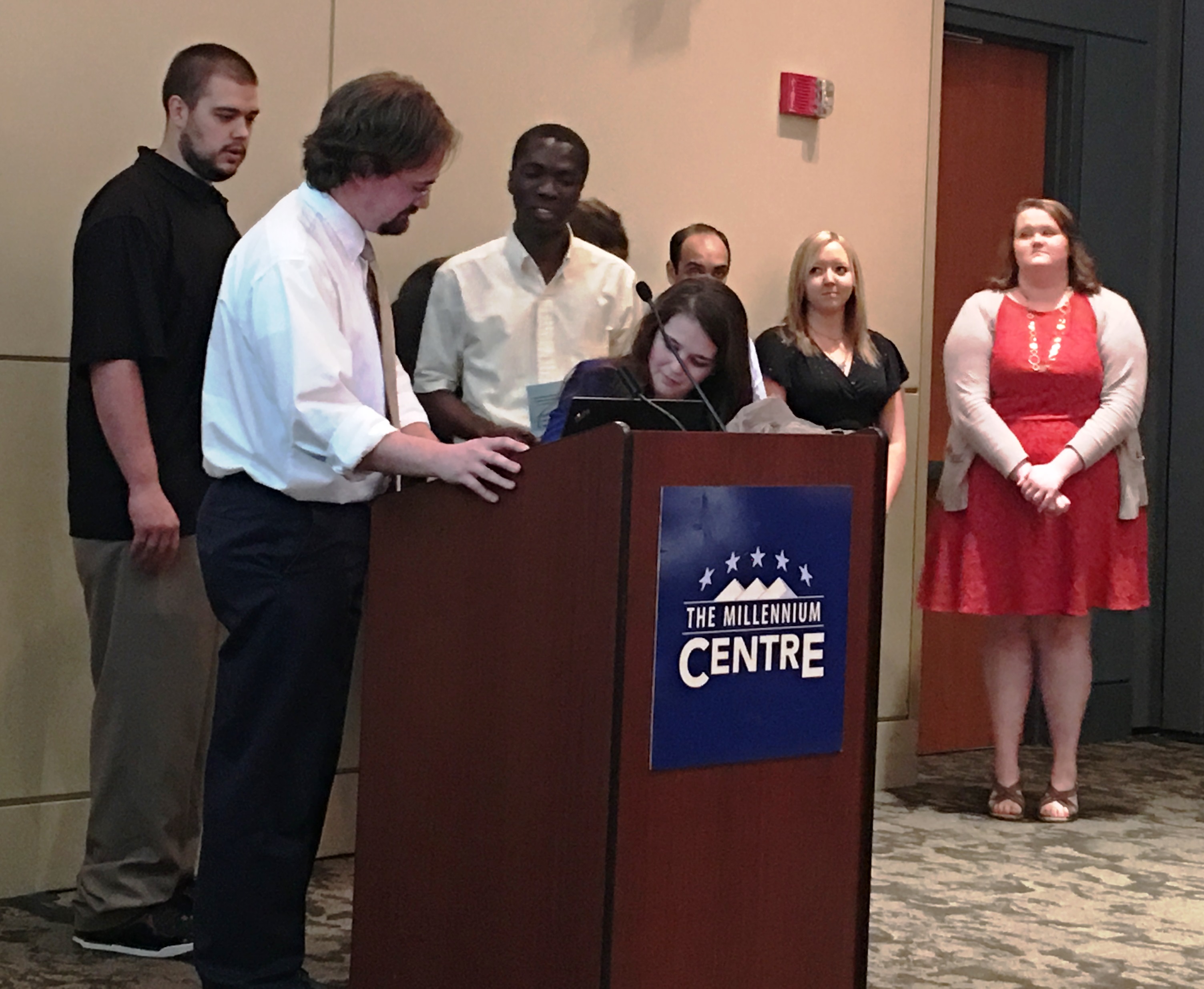 Signing the membership roll.
---
Return to the TN Beta KME Chapter website.
Last updated: July 9, 2016.