"Mountain City… Where Did You Say That Was Again?"
A local's Sketch of the Often Bypassed Town of
 Mountain City, Upper East Tennessee
by Adam Timbs
for Advanced Composition, East TN State U
December  2011
            Mountain City: population, 2,377. It is county seat, the business district, and coincidentally enough, the sole town of Johnson County, Tennessee. The place is a painting straight out of a Southern small town gallery. It is brushed with all the shades and hues that color any typical small town in Northeastern Tennessee; The Appalachian Mountains can be found standing solemn guard on every horizon, barns and old farm houses that are scattered everywhere watch over fields and cow pastures. If you happen to be looking for a church, chances are you are but a stone's throw away from one, or at least a sign directing to one, from wherever you may be standing or driving. It sounds like a beautifully quaint, effectively unremarkable small town, and in most ways, Mountain City is. However, it possesses the idiosyncratic quirks and inherent "down home" feel that gives life to a small town, and those factors make Mountain City wonderful for some, and unbearable for others. As someone who was raised up there, I am proud to call it my hometown, and find it rather a tragedy that I must constantly explain its relative existence even to people who live nearby in neighboring counties. So, where is this "Mountain City" anyway?
Where is Mountain City?
<![if !vml]>

<![endif]><![if !vml]>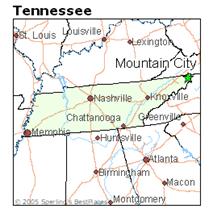 <![endif]>            Mountain City is located in the center of Johnson County, Tennessee, which is the last county on the Northeastern tip of the state. In Tennessee, Johnson County is bordered on the west by Sullivan and Carter County, In North Carolina, it is bordered on the East by Ashe, Avery, and Watauga County, and in Virginia, it is bordered to the North by Washington County. U.S. 421 connects Mountain City to the cities of Bristol, Tennessee and Virginia, and Boone North Carolina. Highway 67 runs along the edge of Watauga Lake to Elizabethton and Johnson City, Tennessee. Highway 91 also leads to Elizabethton, but respectively winds into Damascus, Virginia as well. U.S. 421 is the only U.S. highway in town, and there are no interstates to be found.  Boone, Johnson city, and Bristol eclipse Mountain City due to their size and prominence as college towns, so they receive most of the traffic that passes through Mountain city. Thus, to many, Mountain City is more akin to a glorified rest stop than a town, and is simply a few buildings and fast food restaurants that must be passed through to get to Johnson City, Bristol, or Boone.
Mountain City, In and Of Itself
          There is, of course, more to Mountain City than just a few brick buildings, restaurants, and gas stations. In the center of town lies Main Street, which is where several local businesses, churches, a pharmacy, a bank, a funeral home, and a furniture outlet, all call their home. Basically, if you are looking to cover any business, be it checking on finances, refilling a prescription, or furnishing your house or grave, Main Street is a good is a place to start. Two popular local businesses on Main Street are the Army Surplus store and Mountain City Antiques and Collectibles, which lie right across from the street from one another.
<![if !vml]>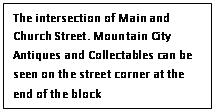 <![endif]> Army Surplus has wide selection of very well near everything. Guns and ammo, clothing, tools, fishing and hunting supplies, and of course, a lot of old hand me down military <![if !vml]>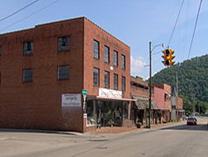 <![endif]>equipment and memorabilia. Items that have been there in the past range from old record players and nunchucks, to parachutes and (to the delight of me and a friend) a two piece fire retardant suit, which looks much like what one would imagine the tin man might wear to attend a disco. As such, the item selection is always very good, ranging from practical to downright bizarre. Also, Army Surplus is usually willing to buy items of any value, should you be looking for some quick cash. Good over the counter conversations can always be had, and the service and atmosphere is always cheerful and friendly.
Mountain City Antiques and Collectibles is, as the name suggests, an antique store. The building has three floors, each one laden with antiques, oddities, furniture, vinyl records, and books. As with any antique store, much carousing and digging must be done in order to uncover all the contents of the store. While it is an antique store, Mountain City Antiques and Collectibles is also an outlet for local art and memorabilia. Paintings and other creations from local artists can be found for sale. The store is always buying and selling new items, so there is a constant flow of inventory for those who might be looking for that odd trinket or painting.
<![if !vml]>

<![endif]>A weekly gathering place and popular spot for entertainment is Heritage Hall, which functions as Mountain City's community stage. Heritage Hall is located on 211 North Church Street, and is adjacent to county school board office building. The Community theatre and Johnson County High school Drama <![if !vml]>

<![endif]>department regularly put on productions there, and there is never a shortage of local and regional artists who perform there. Great care was taken in the building and furnishing of Heritage Hall, and from the wide, well centered stage, to the red plush seats to accommodate the audience. It is definitely a place to check out on a Friday or Saturday night.
<![if !vml]>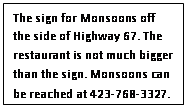 <![endif]>Perhaps one of Mountain City's best kept secrets is the humble restaurant, Monsoons, which is set up in an assuming shack off the side of Highway 67 in Butler. Monsoons offers <![if !vml]>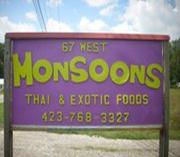 <![endif]>authentic Thai cuisine, which for Mountain City dwellers, is a great reprieve from the typical fast food fare available in town. While the restaurant is humble, it is certainly not lacking in service or quality. When dining inside, you can hear and see your food being made fresh in the small kitchen and can also expect to be treated to some interesting conversation by those that work there while you wait. It is rather unusual that such a restaurant exists in a place like Mountain City, but it does exist, and it's fresh and spicy-sweet Thai menu will affirm that for anyone who bothers to stop by.
Communities around Mountain City
Mountain City may be the center of Johnson County, but several smaller communities in the surrounding area contribute their own histories and assets to the town, and county, as a whole. Three of these communities are Shady Valley, Trade, and Butler. Each community has important historical significance related to Johnson County, and is very individual and colorful in its own right.
Shady Valley
<![if !vml]>

<![endif]>Shady Valley is one of the most well-known places in Johnson County, though great lengths must be taken to get there. The small community lies at the end of a long, viciously curving tract of Highway 91 that ascends up Shady Mountain. This stretch of road in and out of Shady Valley has been long famous in <![if !vml]>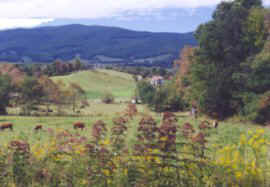 <![endif]>Johnson county for its dangerous twists and turns, and it has been the bane of truckers, bus drivers, and easily car sick individuals (myself duly included) for many years. This 30 mile stretch of 91 is actually known in motorcyclist circles as "the snake", and each year hundreds of bikers come from all over the country just to test their mettle against the sharp, heaving curves that comprise Johnson County's most infamous roadway. The Valley itself, is flat and gently hilled, and is perhaps one of the most beautiful places in all of Northeast Tennessee.
Shady Valley contributes much to the county's agriculture, and most of its residents are involved either directly or indirectly with farming. Shady Valley is also noted for its Cranberry Bogs, which in prehistoric times, used to fill much of the valley. The Cranberry Bogs are the root of the Cranberry Festival, which has its main grounds in front of Shady Valley Elementary school and is typically held on a Saturday in Mid-October each year. There is always a parade featuring the Johnson County High School band, several handcrafted floats, and a long line of well-maintained and restored vintage automobiles. On the festival grounds the smells of frying polish sausage, as well as apple butter and apple sauce cooking freshly over open fires on site, saturate the air. Live Blue Grass and Folk music permeate through the friendly atmosphere of vendor tents and friendly festival goers'. It is arguably Johnson County's most enduring and successful festival, and is certainly not to be missed.
Trade
Trade is a small community situated close to the border of Watauga County, North Carolina, near the city of Boone. Trade is notable in that it is the oldest settlement in Tennessee. The title is not to be confused with Jonesboro in Washington County, which holds prestige as the oldest town in Tennessee. Trade was established in the mid-<![if !vml]>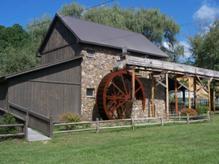 <![endif]>18th century as a trading post for pioneers, Indians, trappers to mutually buy and sell supplies like furs, ammunition, and food stuffs. Trade claims its name from this trading post. Trade is notable for its operational grist mill, which has been standing since pre civil war times. It produces flour, corn meal, and other various goods that can be bought locally in Mountain City. There is also "Trade Days", which is an arts and crafts festival held in trade beside the grist mill, each summer. 
<![if !vml]>

<![endif]>
Butler
Butler is located beside Watauga Lake, right below the border with Carter County, Tennessee. Butler is also a very historic town, placing its beginnings as a settlement in the mid-18th century and is not much older than Trade. "Old Butler" as it is now called by many of the folk around Johnson County, is the old town which now lies underneath the waters of Watauga Lake. The TVA began a reservoir project in the 1940's that would require the entire town to relocate to higher ground. Homes and businesses were abandoned, and graves were dug up from centuries old cemeteries and also moved to higher ground. The town was finally inundated in 1948, and the ruins of Old Butler still lie at the bottom of the lake today. Butler celebrates its heritage each August with "Old Butler Days", a festival commemorating the history of the community. There is also the Butler Museum, which has just recently begun operation. It possesses many antiques and items from Old Butler, as well as many written accounts and pictures of those who dwelled there. The museum's website, www.thebutlermuseum.com, has an archive of history and photographs on old and new Butler.
Old Butler is still in the collective conscience of the inhabitants of Mountain City. Nearly everyone knows the general history, and also, the spattering of legends that go along with it. My personal favorite is the myth of the man-sized catfish that supposedly dwell deep down in the ruins of the sunken town. I have fished some big catfish out of Watauga Lake, but never a man-sized one. I personally choose to believe it is possible, such is the way with myths and legends.
Notable Contributions to Popular Culture
Besides various instances of historical significance, Mountain City does in fact, contribute something to recent popular culture. The 1989 Steve Earle hit, "Copperhead Road" was inspired by true events on an actual road near Mountain City in Johnson County. The song deals with moonshine running in Johnson County, and the danger and heritage that come with it. The name of the road is Copperhead Hollow Road to discourage people from stealing the road sign due to the song. I know some people in town who still boast about having a Copperhead Road sign.
Mountain City, In Conclusion
This is Mountain city, in a roughly packed nutshell. Through its white Winters and crisp summers, through the green Springs and Brazen red and gold Falls, Mountain City remains in a strangely still place while the seasons change around it. Whether just passing through or staying awhile, you still may not find Mountain City to be any more than just on the surface of itself. In many ways it's not. It is however, a town that sits literally at the foot of the mountains, a place where you can actually see a clear sky at night. There is an entire sunken community at the bottom of a lake a few miles down the road, with people living nearby who can still tell stories about when it was just a small town by a river. It is the town at the northeastern tip of the state of Tennessee than nobody knows exists. It is Mountain City, a small town, a home town, and perhaps a bit more than a glorified rest stop along Highway 421.