Shod or Not Shod, That is the Question: Is Barefoot Running Really Better than Shoes?
by Michael Deel, for Advanced Composition, ETSU, Spring 2011
<![if !vml]>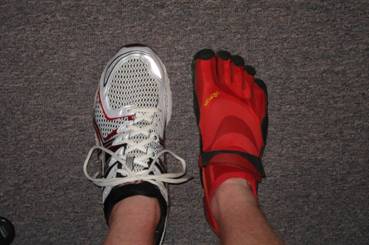 <![endif]>
<![if !vml]>
<![endif]>
Three years ago, Michael Deel purchased his first pair of Vibram Fivefingers, a shoe that replicates being barefoot.  Out of curiosity, he decided to run in them.  The near barefoot experience helped him improve his stride and run pain free.
I remember one sunny day after a long afternoon at Gray Elementary school.  I walked off of the big yellow bus, past the tire swing and the smell of the pine tree it hung from, and onto the back porch under the clear blue skies.  After I grabbed my favorite Wild Cherry Caprison and a Little Debby Oatmeal Cream Pie, I sat down at the table with my older sister Michelle and my jet-black cocker spaniel-blue heeler mix, Holly.  I could hear the birds chirping, and Holly could see them.  She started barking and took off running down the steps of the back porch, and I knew I would have to give chase because she was bad at finding her way home.  There wasn't even time to put on my shoes.  After I ran down the steps at started running after her, I noticed something different.  I was running faster than I ever had.  I felt graceful and smooth and fast.  I actually caught up with Holly once she slowed down a little.  I had never felt that fast before, never.  That memory has stayed with me for 10 years now, and there are more and more people noticing the same thing.  Now, more than ever runners are switching to barefoot and minimalist running claiming that it is a way to run faster and with fewer injuries.  Should we join in the movement?
***
Ever since Nike invented the first modern running shoe in 1970, people have been slipping their feet into a heavy, thick-soled shoe that was built to protect the runner's legs, feet, and body, but many runners' think shoes are doing more harm than good.  According to reporter Amy Cortese in the New York Times, "Recent research suggests that for all their high-tech features, modern running shoes may not actually do much to improve a runner's performance or prevent injury."  A revolution has begun and people are beginning to experiment with barefoot running and running with ultra-thin shoes that replicate being barefoot called "minimalist running," and the runners like it.  The minimalist runners seem to be going back to their roots; humans didn't wait to start running until Nike created running shoes after all.   Ancient Romans that traveled across all of Europe, the Greek that ran to Athens from Marathon, and the Aztecs that fought Cortez had to wear something.  The ancient runners must have been doing something right with their bare feet and thin sandals.
Discovering Minimalism
One day, my friend Raymond got a crazy pair of shoes called Vibram Fivefingers.  They were all black and had slots for every toe with an extremely thin sole.  They were like toe socks with a thin sole.  I decided to go to Mahoney's, an outdoors store in Johnson City, Tennessee, and buy a pair for about $100.  While there, I learned that the point of the shoes was to feel like you weren't wearing shoes, and inside the shoe box was a booklet that explained all the activities that were good for Fivefingers:  hiking, water sports, climbing, and the most important to me, running.  I couldn't wait to try them on the road.
<![if !vml]>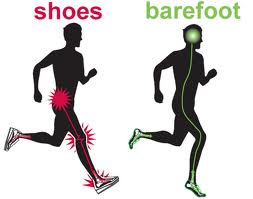 <![endif]>The first thing I noticed when I ran in my Fivefingers was how different my stride was; it reminded me of the time I chased Holly through my neighborhood.  I went from a tall, lanky runner that stretched out his legs as far as possible that hit the ground hard with his heel every step to a graceful runner that look shorter strides and had a quick forefoot strike.  This really surprised me because I didn't think switching shoes would have an instant change.  I also noticed that the Fivefingers were extremely light compared to running shoes  So when I finished with my first five mile run in Fivefingers, I went home and looked up barefoot running  on the internet and I read the book Born to Run by Christopher McDougall. 
I learned that a heel-strike with running shoes causes the force of each step to be sent through the cushioned heel and absorbed by the knees.  This can cause many health problems like shin splints and IT-band problems.  Research claims that with barefoot running, the runner uses a mid-foot or fore-foot running stride.  This stride uses the arch of the foot and calf muscles to absorb most of the force.  The arch of the foot first flattens under initial impact, and then the calf is put under tension.  This fixes many medical problems with the ankles, cures shin splints, and most importantly takes pressure off of the knees.  However, not everything is great about minimalist running.  Rocks and roots hurt extremely badly, and they can cause very tender spots on the feet during a run.  Also, while at a local road race, the Crazy 8's 8K in Kingsport, Tennessee, I learned from a friend of mine that runs for Milligan College once told me to never run in my Fivefingers.  His coach had told the team that barefoot runners run with a higher cadence and the extra foot strikes can cause stress fractures in the foot.  As a cross country runner and captain, I've had bad knees for years possibly caused by my Asics running shoes.  I would have to take Advil before every race to ensure I made it through, but I would take sore knees over a stress fracture any day.
The Facts
Many of the medical problems associated with running and jogging are supposed to be corrected through the shoes that are worn; however, "experts say the injury rate among runners is virtually unchanged since the 1970's when the modern running shoe was introduced.  Some ailments, like those involving the knee and Achilles' tendon, have increased" (Cortese).  When McDougall was researching for his book, he discovered that the runners who used the top line of running shoes actually had 123% chance of getting injured compared to the runners used the cheaper shoes while the Tarahumara Indians that McDougall discusses almost never gets injured, and they wear sandals made of tire (McDougall, 171).  McDougall also discovered that Vin Lananna, the track and cross country coach at Stanford University, made his team run barefoot sometimes during training because he "believe(d) when runners train barefoot, they run faster and suffer fewer injuries."  It should also be mentioned that Lananna isn't the average track coach.  He has led Stanford to five NCAA championships, twenty-two titles, and has been named the NCAA Cross Country Coach of the Year (McDougall 169).   This research suggests that even though shoes may be helpful for some solutions, they are not the total solution.  Through trial and error, I think I've found the best solution for me.
Balance is the Answer
A lot of times in life, there is only one answer.  This is not one of those times.  After a long vacation from running, I have ran everyday for the  past month.  At first, my goal was to only run in my Fivefingers.  At first that went well, but my feet began to hurt and my calves always ached.  I began to fear a stress fracture so I knew something had to be done.  I switched back to my Asics.  Then, after a few days my knees began hurting so I switched back to Fivefingers until my feet began to hurt again.  After running for a month in this way, my times are almost as good as they were in high school, and my joints are injury free.  For me, shoes and minimalist shoes are both very good things, but only in moderation of course.  Some people would say I'm just straddling the fence with this decision, but I disagree completely.  That is what worked best for me, and you may like it too.  Don't take my word for it though; try it yourself.
Works Cited
Cortese, Amy.  "Wiggling Their Toes at the Shoe Giants."  New York Times. 29 August 2009: 14 March 2011.
            <http://www.nytimes.com/2009/08/30/business/30shoe.html>
 McDougall, Christopher. Born to Run: A Hidden Tribe, Superathletes, and the Greatest Race the World Has Never Seen.  Alfred A. Knoff. New York. 2009. Print.