If you've come this far and you're one of my students, shouldn't you be studying instead of surfing? Okay, so if you are one of my web design students, you are simply curious to see how a page that is "done right" should look. <grin> If you are one of my computer organization students, you're probably looking for dirt on me so that you can bribe a grade change out of me. Sorry, there are no skeletons here. I'm as boring in my personal life as I am in front of a class. You are, however, more than welcome to browse about if you have nothing better to do. And what are the categories, Mr. Trebek?

In the library (Fiction by David Tarnoff)
During the 1980's, when I was getting my bachelor's degree in Electrical Engineering from Virginia Tech, I became tired of hanging around the engineering geeks and decided to find some "normal" people. (If you are one of my students, then you can probably identify.) I discovered some normal people in the English Department where I decided to get a minor in American literature. Ever since then, I've had a festering passion for writing fiction. Finding the time to write is quite another thing.
The following is a short list of some of my work, quick enough to be read before they start knocking on the bathroom door. I had a blast writing them and I hope you enjoy reading them. E-mail me at tarnoffetsu.edu if you feel compelled to "comment". By the way, all of this stuff is copyrighted so if you want to reproduce it somewhere, please give me a shout before you do. Sorry, there are no obscenities or sexual acts here, Karen won't let me write those.

In the Garage (My interest in old cars)
I have loved cars since the day I was born. It used to puzzle my parents to no end when I'd display my useless talent of identifying the year, model, and make of car that had been the source of the hubcap lying on the side of the road. (Since then, I have discovered that my access to brain cells is limited and I've been saving them for more important things.)
I tend toward old Fords (First On Race Day or Found On Road Dead depending on your own inclination). The cars I've owned include a 1968 Torino GT, two 1967 Mercury Cougars, a 1968 Cougar XR7, and a 1969 convertible Cougar. I like the Cougars because they're just classly Mustangs.
Since Matthew was born, I've given up owning any old cars as I don't have the time to work on them. The 1967 Cougar shown in the picture below is one of the last ones I owned. It is a "Dan Gurney Special" (a promotional package offered late in the model year).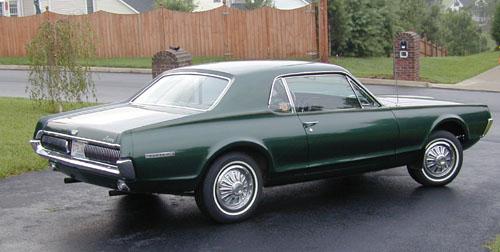 I still get my "old car fix" by going to the occassional car show and working on a 1971 Buick and a 1971 Chevy pickup that my father-in-law owns.

What We Do For a Living
Karen and I both work at East Tennessee State University and are thoroughly enjoying life in the mountains of Northeast Tennessee. We moved here from Blacksburg, Virginia, home of Virginia Tech and the fighting gobblers, (now known as the Hokies). We came here in 1994 when Karen was offered, (and accepted), a tenure-track position in ETSU's College of Business in the Department of Management & Marketing.
I figured I might as well work too when we got to Tennessee, so I began working at ETSU as a manufacturing engineer in their Department of Technology, part of the College of Applied Science and Technology. After five years of working in the basement (where all good geeks should be) playing with microprocessors, robots, control systems, and other sorts of manufacturing toys, I left to start my own business, Intermation. In August of 2000, it became apparent that ETSU was where I needed to be, and I returned to teach in their Department of Computer and Information Sciences. In general, I enjoy designing embedded systems using:
I also play around alot with Java, HTML, C++, and assembly languages. This allows me to put together systems that perform remote control and data acqusition over the Internet. I used to be an HTML purist, but lately I've spent most of my time working with the wide range of tools from Macromedia.
If you want to know more than that, I hope you get some help real soon.

[ ] [ ] [ Interests ] [ ]