10 Things Everyone Should Do On Mackinac Island
by Hannah Ruff
for Advanced Composition, ETSU, Spring 2011
Hannah Ruff is an English Major at East Tennessee State University.  She was born in Michigan and her family has been vacationing on Mackinac Island since before she was born. Over the years, she has become very familiar with the island, its attractions, and its history.  This is her list of the top ten things to do on Mackinac Island, ending with the most important at number one.
<![if !vml]>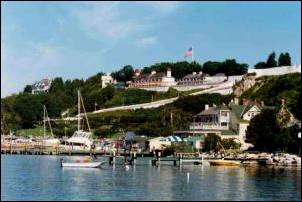 <![endif]>
Picture this…
After searching around for a good vacation spot, you decide to go to Mackinac Island, Michigan.  After traveling the length of the state, you arrive in Mackinac City and find the docks where ferries wait to take tourists to the island.  Other than ferries, the only way to get to this small island is by airplane. You buy a ferry ticket, have your car parked, and your bags tagged and loaded onto a ferry.  Soon, you are in line waiting to board your ferry.  Once on board, you make your way to the open top level.  You're willing to deal with the chilly winds because you know that if you sit up here, you will have the best view of the island.
            Soon, the ride begins.  Before long, the details of Mackinac begin to take shape.  You see Fort Mackinac, the Grand Hotel, and the main street of the town, all of which are surrounded by lush trees.  From this distance, the island seems especially peaceful.  As the ferry approaches the docks, you descend the stairs to join the line of tourists preparing to disembark.
            The instant you step off the ferry, you feel as if you have entered a different time.  Peering down the docks, you glimpse the main street.  Though bustling with tourists, the streets are fairly quiet.  Several horses trot peacefully by. No cars are allowed on the island, which adds to the calm, relaxing atmosphere and also makes you feel as if you have gone back in time.  You amble down to the joy-filled main street.  Well, you're here; you've made it to Mackinac Island.  Now what?
            I've been coming to Mackinac Island for family vacations since I was a small child and I know it well.  In case you haven't heard of Mackinac, here are some things you might want to know. Since the Victorian era, Mackinac Island has been known fondly as a tourist trap.  This small island is only about 8 miles around and lies in the Straits of Mackinac between Michigan's upper and lower peninsulas.  The island's name is French and has retained its French pronunciation.  The ending c is pronounced like a w, making it Mackinaw.  Though the island is very cold in the winter and is often difficult to get to once the Straits freeze over, the weather in the summer is pleasantly warm.
Before being settled by the French in the late 1600's, the Ojibwa Native Americans believed Mackinac Island was the sacred home of the god Kitchi-Manitou.  This is easy to understand, especially when you consider how beautiful the island is naturally.  Every year Mackinac holds a Lilac Festival, since the island is known for its beautiful and fragrant lilacs.  Considering both the natural beauty and touristy fun, there are ten things that everyone who visits the island should do.
<![if !vml]>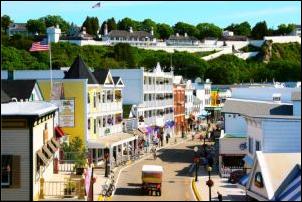 <![endif]>10. Shop – Mackinac Island has a nice assortment of shops lining the main street.  While most of these are touristy, selling mostly sweatshirts and souvenirs, there are some higher-end shops.  One shop you'll want to visit is Great Turtle Toys.  The name comes from the translation of the Ojibwa name for Mackinac, "Great Turtle Island".  Though this toy shop is primary for children, kids and grown-ups of all ages will enjoy spending time in this colorful, whimsical store that sells all kinds of toys from trains and kites to the most technologically advanced gizmos.  Other stores sell jewelry, moccasins, and lilac-scented soap.
9. Stay overnight – The best way for you to get the full Mackinac experience is to stay overnight on the island.  Mackinac is home to a number of Inns, Hotels, and Bed & Breakfasts.  The most famous of these is the Grand Hotel, where the 1980 movie Somewhere in Time, starring Christopher Reeve and Jane Seymour was filmed.  However, this hotel is pricy and guests must follow some strict rules.  For those who want more freedom at less cost, there are plenty of options.  I would suggest staying at Hart's Haven, a family-run, nine-room B&B.  The "mom & pop" type owners are always friendly and provide a tasty breakfast of pastries, fruit, coffee, and hot chocolate.  The rooms are always clean, comfortable, and colorful.  Also, since the doors to each of the rooms open directly to the outside, guests can come and go as they please, which allows for a pleasant, laid-back atmosphere.
8. See the Grand Hotel – As was mentioned earlier, those who choose to stay on the island may not choose to stay at this pricy hotel.  However, visitors should still see it.  Built during the Victorian era, this enormous hotel has housed a variety of guests for generations.  The grounds around the hotel are always stunning and well groomed, hosting a variety of colorful plants and flowers.  The inside of the hotel is beautiful, as well, but those wishing to see it must first pay admission.  Admission also allows you access to a number of stores located inside the hotel, including clothing stores, a tea shop, an art gallery, and a toy shop.  All guests and visitors must adhere to the rules which emphasize Victorian manners.  In fact, after six o'clock at night, both inside the hotel and on hotel grounds, all women are expected to wear either a skirt or dress and all men must wear a sports coat.
7. See Fort Mackinac – Fort Mackinac was built by British forces in the late 1700's and was active for about one hundred years.  Now, for an admission fee, visitors can see what it would have been like to live in the fort.  Guests are free to tour the officer's quarters, bathhouse, post office, and many other interesting buildings.  The fort also has rifle and cannon firing demonstrations.  It is a great place for kids to visit, too, with plenty of interactive exhibits, including a giant fife, a cannon with sound effects, and dress-up soldier outfits.  Guests may also want to visit the gift shop and café.  Right in front of the fort is Marquette Park, a large, grassy area where many visitors enjoy eating picnics and relaxing on warm, sunny days.  Here, also, there is an interesting exhibit in a replication of a Native American dwelling.
<![if !vml]>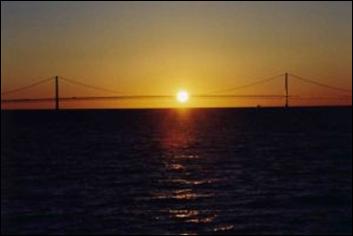 <![endif]>6. Wade in the Straits of Mackinac – Mackinac Island is surrounded by beautiful, blue water.  Though the beach is rocky, the water may be a welcome relief on a hot summer day.  However, you may not want to immerse yourself fully, since the Straits are chilly year-round.  Perhaps the best time to get your feet wet is in the evening.  Then, you can watch the sunset over the Mackinac Bridge, a five-mile-long bridge connecting Michigan's two peninsulas.  Of course, the beach is open all day and for those brave souls who want to swim, the hottest part of the day is the best time to go.
5. Eat out – The restaurants on Mackinac Island are fantastic and there are plenty to suit any budget.  Whether you want a pancake breakfast, a quick lunch at a café, a casual out-door meal, or a fancy sit-down dinner, you will be able to find almost anything you want, unless you are looking for a fast-food chain restaurant.  Most of the restaurants serve American food, such as hamburgers, sandwiches, and pizza.  One great place to go is the Chillin' and Grillin' Waterfront Café.  This restaurant offers delicious food on an outdoor patio overlooking the Straits of Mackinac.  Another restaurant is The Village Inn.  Here, the specialty is planked whitefish.  They also serve excellent cheese biscuits.  This restaurant is casual and you can eat either inside or outside.  If you want to go somewhere very nice for dinner, get dressed up and go to The Carriage House.  Here, the menu is elegant and delicious.  With their extensive wine list, this is definitely the place for a wine enthusiast.  
4. Ride a horse or horse-drawn carriage – Since no cars are allowed on the island, visitors' options for transportation are horses, carriages, bikes, and their own two feet.  Normally, not having a car would be considered a hindrance, but on Mackinac, the absence of cars provides a calm, pleasant atmosphere.  Getting around is no trouble because all of the restaurants and shops are in a concentrated area and are easy to get to.  The presence of horses on the island adds to the calm atmosphere.  You can either call a carriage to pick you up or just climb up into an open one.  There are also a number of horse stables where you can go if you want to take a tour of the island on horseback.  Carriage tours are also available, some of which will show you the haunted areas of Mackinac!
<![if !vml]>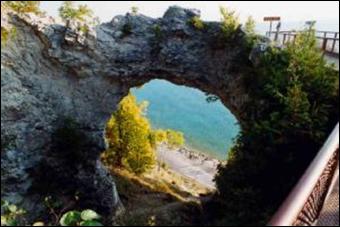 <![endif]>3. Bike around the island – Besides riding horses, another great way to tour the island is by bicycle.  Visitors to the island may either rent bikes from one of several rental shops or bring their own bikes, for an extra fee on the ferry.  Like many riders, I always begin the trail by riding (or walking my bike) up a large, fairly steep road that intersects the main street.  Continuing on this road, riders will soon come to Arch Rock (picture to the left), a natural limestone formation that overlooks the Straits of Mackinac.  After that, the trail will take you to another limestone formation, called Sugar Loaf.  Sugar Loaf is almost mountain-like and is covered in small caves and crevices which children often love to explore.  Next, you might choose to go to Fort Holmes, which was built during the War of 1812.  Though not anywhere near as grand as Fort Mackinac, it is certainly an interesting piece of Mackinac Island's history.  After Fort Holmes, bikers ride down to the road that runs along the beach and take this back to town.  This kind of tour is fun, relaxing, and allows you to take a break from the more touristy parts of the island and enjoy the natural beauty.
<![if !vml]>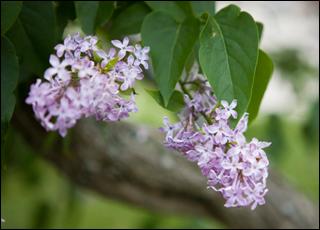 <![endif]>2. Smell the lilacs – Mackinac Island is known for its lilacs.  Lilac trees are scattered all across the island, filling the air with their beautiful floral scent.  Every spring, Mackinac holds the Lilac Festival to celebrate these lovely purple plants.  Though the best time to see and smell the lilacs is in May or June, many last well into July and sometimes August.  Visitors to the island will see lilac-scented products such as soaps and lotions in almost any store, which allows them to take the heavenly scent of Mackinac home with them.
1. Eat fudge – Mackinac is also famous for its delicious fudge.  In fact, the fudge is so popular among tourists that Michigan natives often refer to out-of-state visitors as "Fudgies".  There are many different fudge shops on the island, but the best place to go is Ryba's.  Ryba's has the best fudge on the island and also makes a variety of other chocolates, candies, and ice creams.  Going to Ryba's is entertaining as well as tasty.  When you go, you can watch them make the fudge!  Don't let the fact that Ryba's is a chain fool you.  Their fudge is incredible!  Also, you won't have any trouble finding it.  The signs are all in a nice, cheerful, easy-to-see pink.
Mackinac Island's natural beauty and slow paced atmosphere allow for peaceful and relaxing vacations.  The island is open year round, but the on-season begins in May.  No matter what time of year you go, you are sure to be captivated by the island's Victorian charm and relaxed air.  So why not head up north now?  Begin planning your vacation and soon you will proudly become a self-declared Fudgie!
For more information on Mackinac Island, visit:
 http://www.mackinacisland.org/index.html
 http://www.mackinac.com/index.html
Pictures come from:
            http://www.photosonmackinac.com/
Confused non-Michiganders (Fudgies) may find the following site helpful when trying to understand the Michigan dialect and accent:
 http://www.michigannative.com/