Travel Routes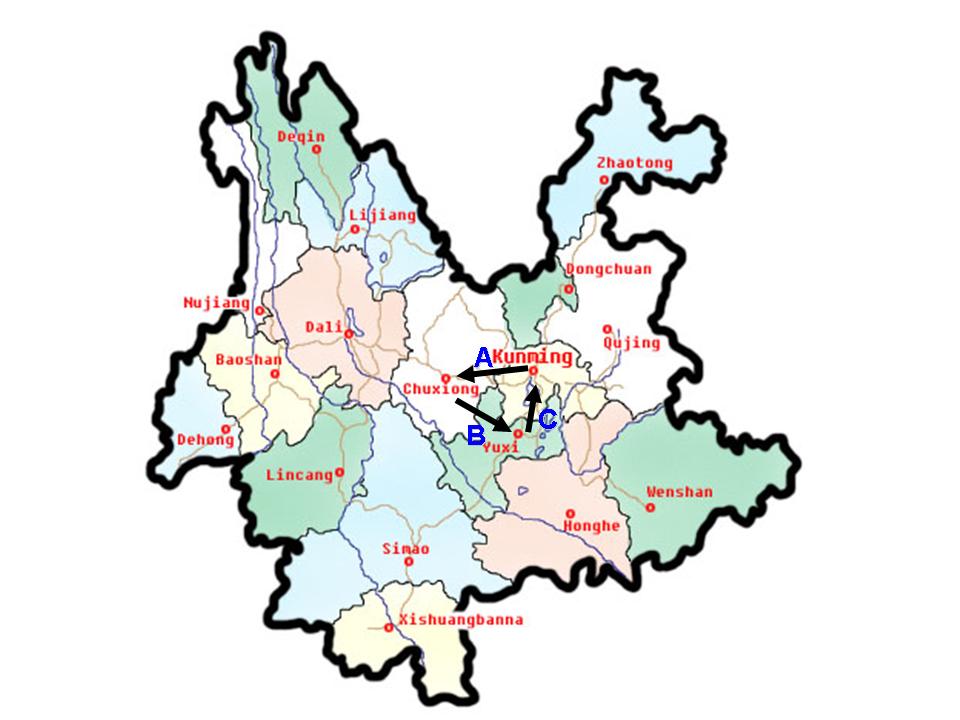 Map of Yunnan Province, SW China
Tentative schedule:
June 4: leave Johnson City for China

June 5: arrive in Shanghai (east coast of China)

June 6: arrive in Kunming, capital of Yunnan

June 7-13: bus ride from Kunming to Chuxiong (route A) - Jurassic Lufeng Dinosaur Park

June 14-17: bus ride from Chuxiong to Yuxi (route B) - Early Cambrian Chengjiang Fauna

June 18: bus ride from Yuxi back to Kunming (route C)

June 19-22: Neogene plant sites around Kunming, botanical garden and zoological museum in Kunming

June 23: sightseeing in Kunming

June 24: back to the States
---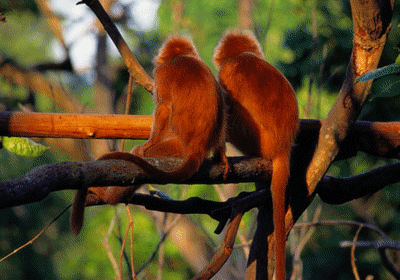 TRAVEL RELATED ISSUES
1. ENTRY/EXIT REQUIREMENTS:
A valid passport and visa are required to enter China and must be obtained from Chinese Embassies and Consulates before traveling to China.
To apply for Visa
1). Address:
Visa Office of the Chinese Embassy
2201 Wisconsin Avenue, NW, Suite 110, Washington, DC 20007
Tel.: (202) 338-6688; Fax: (202) 588-9760; Email: chnvisa@bellatlantic.net
Alternative: The application for China visa can also be handled by a travel agency – China Visa Office (http://www.visa-chinese.com/china-tourist-visa.htm), which charge $29.00 per person (service fee), in addition to the $130.00 visa application fee (with a single entry) charged by the Chinese Embassy. (Total cost: $159.00 per person).
2). Visa Application form:
http://www.visa-chinese.com/china-visa-application-form.pdf
3). More information: can be accessed from the website of the Chinese Embassy in Washington DC (http://www.china-embassy.org/eng/hzqz/zgqz/t84246.htm).
---
2. SAFETY AND SECURITY:
(Mostly excerpted as being relevant from the US Department of State Website, http://travel.state.gov/travel/cis_pa_tw/cis/cis_1089.html )
Americans visiting or residing in China are advised to take the normal safety precautions travelers take when in any foreign country. Specifically, travelers should remain aware of their surroundings and of events that are happening around them. Travelers should respect local police requirements to avoid travel in some areas.
Terrorism is rare in China, although a small number of bombings have occurred in areas throughout China. Recent bombings have largely been criminal activity, frequently the result of commercial disputes. While some incidents have grown to larger scales and involved some violence, these demonstrations have not been directed against foreigners.
For the latest security information, Americans traveling abroad should regularly monitor the Department's Internet web site, where the current Worldwide Caution Public Announcement, Travel Warnings, and Public Announcements can be found.
Up-to-date information on safety and security can also be obtained by calling (888) 407-4747 toll free in the United States., or for callers outside the United States and Canada, a regular toll-line at (202) 501-4444. These numbers are available from 8:00 a.m. to 8:00 p.m. Eastern Time, Monday through Friday (except U.S. federal holidays).
---
3. CRIME:
(Mostly excerpted as being relevant from the US Department of Sate Website: http://travel.state.gov/travel/cis_pa_tw/cis/cis_1089.html)
China has a low crime rate. Pocket-picking is the most common crime, often targeting tourists at sightseeing destinations, open-air markets, airports, and in stores. Violence against foreigners is rare. However, incidents of violence against foreigners, including sexual assaults have been reported, usually in urban areas where bars and nightclubs are located. Special caution should be exercised when visiting bar districts late at night, especially on weekends. Robberies, sometimes at gunpoint, have occurred in western China and more recently in Beijing.
You should always exchange dollars for RMB at banks, hotels and official exchange offices because it is illegal to exchange dollars through unauthorized agencies and because of the existence of considerable volume of counterfeit currency in China. You should decline when asked by locals to exchange money at a preferential rate, because unofficial exchanges usually result in receiving counterfeit currency and possibly left to face charges of breaking foreign exchange laws. It is also advisable to carry small bills (RMB 10, 20 and 50 notes, images below for all the major notes) for travel by taxi to avoid receiving counterfeit money from taxi drivers as change when you pay with large bills.
For your safety, you should always apply common sense regarding safety and security issues, such as refusing to open your room door to anyone you do not know personally while staying in hotels and not allowing yourselves to be driven to bars or an individual's home unless you know the person.
You should carry your passports with you out of reach of pickpockets. You are also encouraged to make photocopies of their passport bio-data pages and Chinese visas and to keep these in a separate, secure location. You are also encouraged to register with the nearest U.S. Embassy or Consulate General through the State Department's travel registration website so that they can obtain updated information on travel and security within China. By registering, you also make it easier for the Embassy or Consulate to contact you in case of emergency.
---
4. HEALTH ISSUES
· Food Safety: In the area of China we will be visiting, there are few concerns related to eating and drinking, all of which are easily managed.
· Drink water: We will insist that you drink only bottled water or adequately boiled water, regardless of location. Every residential facility in China, from the most elegant 5-star hotel to the most basic dormitory, provides its guests bottled water or an electric pot for boiling water.
· Food: We will insist that you only eat foods that have been cooked, or that you can peel yourselves. The typical Chinese meal consists of a wide variety of vegetables, meats, and rice or steam bread that are piping hot, many of which will be new to students. Raw foods are rarely encountered.
· Medical Travel kit: You are encouraged to schedule meetings with your own physician or the university Human Service to obtain counseling and the standard travel kit, which includes a variety of over-the-counter remedies for gastrointestinal discomfort.
---
5. DISEASE CONCERNS:
China does not require any vaccinations for entry. However, all participants will be directed to Human Service or comparable health services to be evaluated for the following vaccinations (refer to http://wwwn.cdc.gov/travel/destinationChina.aspx):
• Hepatitis A or immune globulin (IG),
• Hepatitis B,
• Japanese encephalitis,
• Rabies,
• Typhoid fever, and
• Booster doses for tetanus-diphtheria and measles.

Other diseases:
· SARS: Outbreaks of severe acute pulmonary syndrome (SARS) occurred in mainland China in 2003. Since there is no evidence of SARS transmission anywhere in the world right now, there is essentially no risk of acquiring SARS.
· Avian (Bird) Flu: Poultry and swine infected with Avian Flu were reported in southwest China in summer of 2006. The infection involves Influenza A (H5N1), a subtype of the type A influenza virus. The virus is so named because of its natural hosts wild birds. Although not typically infecting humans, the virus was found to infect human through direct bird-to-human transmission during an outbreak of avian influenza among poultry in Hong Kong; the virus caused severe respiratory illness in 18 people, of whom 6 died. There have been other instances of H5N1 human infection since then, but the virus thus far has not been capable of efficient human-to-human transmission. We will not travel to areas where avian flu has been reported and will not visit any operation where groups of birds or swine are kept in confinement.
· Malaria: The disease is considered to have been eradicated from Hunan according to a 2002 report of the Hunan Department of Health, and has never been an issue for Beijing.
· Yellow fever: There is no risk for the disease in East Asia.
· H1N1: info from the Department of State.
---
6. TRANSPORTATION:
Mobility to access the mountains, adjacent field sites, and various cultural sites in the cities is required because of the nature of the course. We will use hired bus for transportation. Most of these areas have good public transportation, and paved roads.

We will fly to China from Tri-Cities Airport (Code: TRI) to Shanghai Pudong International Airport (PVG) via Atlanta and Detroit by Delta or from Tri-Cities to Kunming (KUN) via Atlanta and Seoul (South Korea) by Korean Air. Within China, we will travel by hired bus, train, and domestic air carrier.
---
7. EMERGENCY PLANS
Meeting places will be the lodging for the evening. Every participant will be issued a card that states the name, location, and phone number of the lodging in both Mandarin and English. If someone is inadvertently separated from the group, any taxi driver can use the card to transport them back to the lodging.

Cell phone service is ubiquitous and inexpensive in China, and even remote villagers generally have or have access to these phones. We will carry with us at least one cell phone from a Chinese cell phone company at all times.
---
Any comments? Contact Dr. Liu.