ARCH Lab Presentations, Awards, and Memorable Moments
---

Masters Theses 
We are delighted that Tatum Harvey was chosen for The Roger Bailey / Otto Zinser Outstanding Senior Award! This award, named in honor of two of the psychology department's longest serving faculty, Dr. Roger Bailey and Dr. Otto Zinser, is given annually to the student, who, by vote of the psychology department, demonstrates excellence in academic achievement in the discipline of psychology. 
We are delighted that Zara Taylor was chosen for the Tiller Family Scholarship. The Tiller Family Scholarship in Loving Memory of Johnia Hope is to provide scholarship assistance to deserving students enrolled in the College of Arts & Sciences at East Tennessee State University who are pursing a degree in psychology with an interest in the psychological development of children. 
The ARCH Lab is proud of its graduate students who have successfully defended their masters theses!   
Meg Clingensmith: We All Need Somebody to Lean on: Social Support as a Protective Factor for Individuals with Childhood Adversity 
Robyn Dolson: Pocket ACE: Neglect of Child Sexual Abuse Survivors in the ACEs Questionnaire*
*Robyn's thesis won the ETSU School of Graduate Study's Outstanding Thesis in Social Sciences Award. Congrats Robyn!
Julia Najm: Adverse Childhood Experiences, Emotional Socialization, and Substance Use: A Moderator Model
Rebecca Otwell-Dove: Adverse childhood experiences, familial emotion socialization, and adult emotion regulation:A moderation model
Association for Cognitive and Behavioral Therapies (ABCT) Conference Fall 2019
We're excited to have our lab represented at ABCT 2019. One of our graduate students, Rebecca Otwell, will present a poster on Mom Power. She has worked in collaboration with Meg Clingensmith (graduate student) and Victoria Jones (undergraduate honors student) on this presentation.  
Pictures coming soon :) 
Marce of North America Perinatal Mental Health Conference Fall 2019
Dr. Morelen received an Innovation Award in Community Solutions on behalf of the Appalachian Perinatal Mental Health Alliance (APMHA). APMHA is a non-profit that Dr. Morelen co-founded whose mission is to raise awareness and decrease stigma around perinatal mental health problems and to increase the community's capacity to meet the needs of women and families experiencing perinatal mental health difficulties.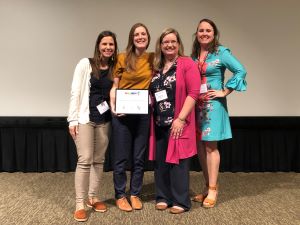 Appalachian Student Research Forum Spring 2019
The ARCH Lab had 4 poster presentations and 2 oral presentations. Meg Clingensmith won 1st place in the poster competition and Robyn Dolson won 1st place in the oral presentation competition. Go ARCH Lab! 
College of Arts & Sciences Spring Awards 2019
Dr. Morelen won new faculty award!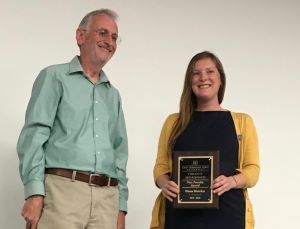 Zero to Three Fall 2018
The ARCH Lab had its first multi-generation talk at Zero to Three.
Dr. Kate Rosenblum (right) mentored Dr. Morelen (middle) at the University of Michigan. Dr. Morelen currently mentors Robyn (left) at ETSU.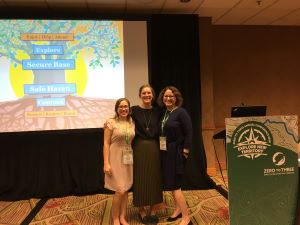 Appalachian Student Research Forum Spring 2018
The ARCH Lab had 1 poster presentation and 2 oral presentations. Jessica Chambers won 1st place in the poster competition.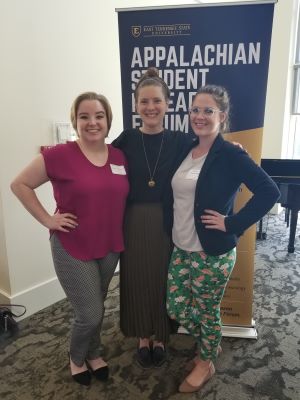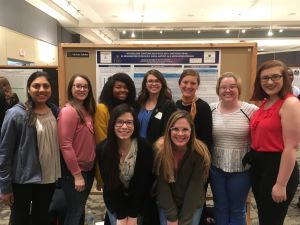 Boland Undergraduate Research Symposium
Jessica Chambers, the ARCH Lab's first honors thesis student, successfully defended her honors thesis at the Boland Symposium.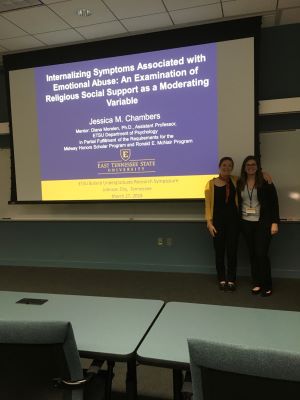 Mom Power Team 
It takes a village to run Mom Power. Here are a few pictures of some of our Mom Power team members across the years.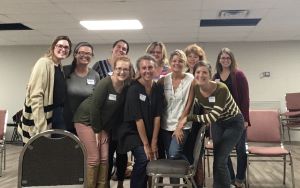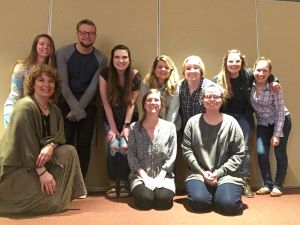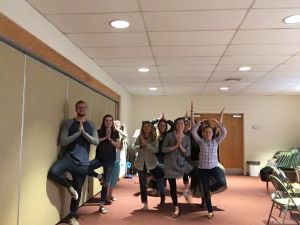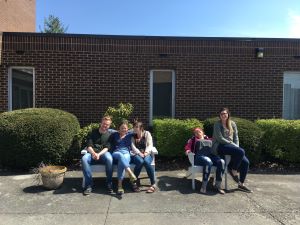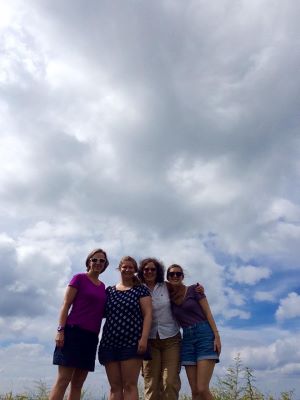 Celebrating with the ARCH Lab
The ARCH lab believes it's important to take time to slow down, connect, and celebrate.