Dr. Morelen's Academic Biography
---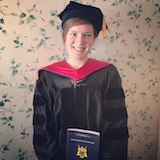 Dr. Morelen received her bachelor's degree from the College of William & Mary (W&M, Williamsburg, VA) under the mentorship of Dr. Janice Zeman. During her time at W&M, Dr. Morelen engaged in research to better understand how children manage their emotions across different cultural contexts. Her honors thesis examined emotion regulation in children living in a rural village in Ghana.
Dr. Morelen then went on to a doctoral program in Clinical Psychology at the University of Georgia (UGA, Athens, GA) under the mentorship of Dr. Cindy Suveg and Dr. Anne Shaffer. Across graduate school, Dr. Morelen's research was rooted in Developmental Psychopathology—or the notion that to understand how development goes awry (i.e., abnormal development) we first have to understand normal development. Within this framework, Dr. Morelen worked on a range of research projects including a treatment outcome study for children with anxiety disorders, studies examining emotional health across different cultural contexts (e.g., nationality, race), a study examining children's emotional development and the role that parents play in that process, a feasibility study for a novel emotion parenting intervention, and a multi-method study examining risk and resilience in preschool-aged children and their mothers.  Dr. Morelen's dissertation examined how a mother's ability to manage her own emotions impacted how sensitively she responded to her child's emotions. A mother's sensitive responses, in turn, related to how well her child managed their own emotions. Dr. Morelen has always valued translational science, and uses lessons learned from her dissertation throughout her clinical practice. For example, when working with families, Dr. Morelen emphasizes supporting parents' own mental and emotional health prior to teaching parenting skills. 
Following her time at UGA, Dr. Morelen completed a 1-year pre-doctoral internship at the Virginia Treatment Center for Children at Virginia Commonwealth University Health System (VCU, Richmond, VA). During this year, Dr. Morelen worked in an acute inpatient facility serving youth with severe mental and behavioral health concerns. During her internship year, Dr. Morelen was able to collaborate with Dr. Michael Southam-Gerow (VCU) on a study examining how children's emotion regulation abilities related to their risk for peer victimization. 
Following graduation, Dr. Morelen spent two years in the Department of Psychiatry at the University of Michigan (UM, Ann Arbor, MI) on a postdoctoral fellowship in Child and Adolescent Clinical Psychology under the mentorship of Dr. Katherine Rosenblum and Dr. Maria Muzik. On her fellowship, Dr. Morelen was a part of a research team that investigated the impact of trauma and mental health problems during pregnancy and postpartum, early risk factors for the development of anxiety and depression symptoms in preschoolers, and a treatment outcome study for a parenting intervention (Mom Power) developed to reach mothers with trauma histories and mental health concerns. During her postdoctoral fellowship, Dr. Morelen received additional clinical training in infant mental health, behavioral health in primary care settings, Autism diagnosis and treatment, and perinatal mental health. She also enjoyed participating in team science that used multiple methodologies (e.g., cortisol, FMRI, behavioral observation of infants and mothers) to better understand mental illness in children and parents. 
Dr. Morelen is excited to join the Buccaneers as an assistant professor in ETSU's Psychology Department. Dr. Morelen aims to have an active research lab that will bridge basic and applied science through a Developmental Psychopathology framework. One project that Dr. Morelen is particularly excited about is bringing the Mom Power intervention to the Tri-Cities area to reach at-risk mothers with young children. Dr. Morelen is eager to work collaboratively with community partners, families, and students to help promote healthy families and healthy child development. One aspect of the Mom Power intervention is supporting mothers and teaching self-care skills so that mothers are better equipped to support and care for their children. As such, Dr. Morelen values self-care on all levels—for families, for students, and for herself. Outside of work, Dr. Morelen finds self-care through yoga, hiking, camping, reading, and spending time with loved ones. 
For more information about Dr. Morelen's training and publications, please click here to access her curriculum vitae (CV).