June 11-17 Tinker Mountain Writers' Workshop
---
3.31 Marge Piercy
---
3.28 Russell Banks
---
3.27 Julia Alvarez
---
Today I'm
pj harvery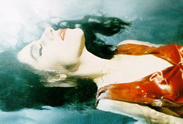 honest, independent, determined
Which Rock Chick Are You?
---
3.26 Tennessee Williams , Joseph Campbell, & Robert Frost
---
3.25 Flannary O'Connor
---
3.23 Fannie M. Farmer & Jack London "You can't wait for inspiration. You have to go after it with a club."
---
3.22 Billy Collins
---
21 March 2006
Maya Angelou @ ETSU
Thursday, March 30, 2006
southern short stories
Reading? What's that? Not getting much done, for one reason or another. Working my way through Stories from the blue Moon Cafe II: The American South in stories, essays, and poetry (2003). I try to read them all, but I skipped two baseball stories, a few poems, and two stories written in second person. Otherwise, the reading is easy; just don't have the time this week to devote.
How did I forget? An eight-pound package awaited me at home yesterday afternoon. Enclosed was the supercalifragilisticexpialidocious Encyclopedia of Appalachia (2006). It was published earlier this month. I ordered a copy with my percentage off form, 'cause I contributed entries. I didn't expect it for another four or five weeks. The best thing: It smells heavenly. Its pages are thin and glossy. They give off that certain new-book-glossy-page aroma that I love so well. Sorry, don't think you can get high sniffing books. Maybe you can. That explains a lot.

Monday, March 27, 2006
Londons & dams & rivers
Maybe the "year of" genre is becoming too much? Peter Mayle started it with Year in Provence (1989). Everybody follows suit. Some call it a writing meme. For the good? Or has it gone bad?
Lots of reading this weekend. My favorite Jack London biography is Clarice Stasz's American Dreamers: Charmian and Jack London (1988). I liked it better than the other one I read. Since there is no Charmian biography, I settled for this one. Basically it chronicles their lives up until they met, then their lives together, and pretty much ends with Jack's death in 1916, though Charmian lived another forty years. How disappointing.
One of the most interesting things about the book is that in the intro/preface, the author compares Charmian and Jack to Zelda and Scott. Mostly because both men were alcoholics and both women's artistic/creative careers were thwarted by their service to husband. The difference is that Jack was a highly productive alcoholic. The book was excellent. I especially liked that she delved into class and gender issues a great deal, and also talked about the dysfunctional household and relationships that alcoholics have and the codependence dynamic between wife and husband. I took pages of notes. Something else I enjoyed was Stasz's treatment of Jack's reading habits and how they formed his character and work. Charmian seemed well-informed and well-read and could always find things in books. She sounds like a thwarted librarian.
One oddity is that the author left out Ina Coolbrith's influence upon Jack's reading. She was the librarian at Oakland Free Library and later became poet laureate of California. Gertrude Stein was one of her charges as well. So she left out Coolbrith, but mentioned another librarian, one unknown to me : Frederick Irons Bamford. He was hired to get OPL's reference collection in shape. Another random thing about Jack is that his mother is from Massillon, Ohio. It's near Canton, where Ian's parents and family are from. I mentioned that bit of trivia this weekend at a family gathering and everyone was shocked. Mostly that I'm reading about Jack. Aleda asked was I was writing another thesis? I have not written the first thesis. Anyway, throwing those bits of Ohio trivia into conversation...well, what purpose does it serve? With all the reading about Jack & Charmian, I'm eager to visit California, especially the Jack London State Historic Park and Carmel.
The title drew me to Looking for Alaska (2005). Silly. I thought it was about Alaska. It is, only one of the book's character's names is Alaska. This is a YA book. In the first twenty pages or so I considered not reading it. It's about a boy who is nicknamed Pudge because he's so skinny. Pudge goes to boarding school in Alabama and makes friends for the first time in his life. He impresses them because he's a good guy, but then too, he memorizes famous last words. One new friend is called Alaska. Naturally he's attracted to her, but she has an older boyfriend who lives in Nashville or Memphis. It's a coming-of-age story. It certainly wasn't bad, and I might have liked it when I was an adolescent. I'm no prude, but I was shocked at how those kids went on about sex. I'm sure I did the same thing when I was 16, but whew, perspective and distance sure have their ways. One of the things that bothered me is that Alaska is this feminist and preaches about male objectification of women, etc. But early in the book she talks about who the geniuses are. They are all male. That inconsistency bothered me throughout the book's entirety. What else amused me? Oh, all the white kids, and the token Japanese kid, rapping together in a barn. Almost forgot, its class themes were good; as in Pudge's friends were poor scholarship students and there was a big divide socially between the kids with money and without. Too bad there wasn't any racial conflict. After all, it was set in Alabama.
Harvest (2004) was a solid book. Writing was good, characters were well-developed, but there were times when I grew bored. It is a multi-generational drama that takes place in Knox County, Tenn. First we meet Arliss. He's known a lot of death and hard work in his short life. He was born during the Depression. Then his family is forced off their land because the Norris Dam is coming. They move to Knox County and raise cattle instead of corn. People die. Arliss marries. They have two boys, Robert and Daniel. They go off to college but neither is interested in taking over the farm. Daniel studies literature and marries Leda. They have two children. Eventually they move onto the farm and Leda grows to love the land and working it with her father-in-law, while Daniel has continuous philosophical crises. Ultimately it was depressing though. It's major theme is progress vs. the environment. All the farmland is gobbled up as Knoxville sprawls. Leda is a very sympathetic character, as is Arliss. But Daniel? He's just the kind of man I don't like. On their honeymoon in the Outer Banks he walks off to sulk when Leda suggests they do it atop his shirt instead of hers so that she doesn't have to wear the wet spot afterwards. That's not all, but I loved that one detail. Too, the author has some kind of skill to make me wish her character would kill himself; just get it over already. I'm not sure she intended her readers feel that way about her character. I'll have to try her first book, Some days there's pie (2003).
Actually, before I finished Harvest I read the first part of Ron Rash's One foot in Eden (2002) at the bookstore before buying it and
Saints at the river (2004), bringing them home, and reading them both last night/this morning. Now I'm a Ron Rash fan. I loved One foot in Eden. Sometimes I start a book and there's just this spark. This thing. I don't know how to describe it. It happens rarely. But I was drawn into the story. And I loved it and the writing. It's a bit of a murder-mystery. Set in western South Carolina in the 1950s, the story is told by four characters. First we meet Sheriff Will Alexander who investigates a missing person, Holland, a war vet recently returned from Korea with a Gold Star. Holland's mother tells the Sheriff who shot and killed her son. It's the neighbor, Billy, who's somehow kin to the Sheriff. Sheriff comes around and looks everywhere. There are bloodhounds out sniffing for the Holland's body. They don't find him. Eventually Sheriff returns to Billy's home and tells him "You got away with it" and closes the case. Next part is told by Billy's wife Amy. She goes into their courtship and their problems with starting a family. Turns out the polio Billy was stricken with as a boy left him sterile. Both want a baby more than anything. Amy visits the local granny-woman who folks figure to be a witch. Billy drinks a potion and they lay together in the field by the light of the moon. The third part is told by their son Isaac. It's the last day they can be on their land. Yep, there's another dam coming. Folks displaced and underpaid for property that's been in their families for generations. Their farmland will be underwater. They all got to take jobs at the mill and work for the man. Isaac, however, is off to Clemson on a scholarship soon. He's finishing up cutting all the cabbages out the field when the Sheriff comes by to ask a favor. Seems the next door neighbor lady, who his mother forbade him to visit, won't leave her house until Isaac comes to talk to her. Then the last bit of the story is told by the Sheriff's deputy, Bobby, I think his name was, as the floodwaters rise. It was so good, I might read it again.
Rash's second book, Saints at the river, features the same setting, but in a contemporary time. Maggie is a photographer down in Columbia, SC. When there's a drowning back home, she's sent to cover the story. Normally there wouldn't be such interest in the death except that the girls' body cannot be retrieved. It's behind a boulder at the bottom of a waterfall. There's a vortex or hydraulic that holds the body there. In olden days, they would have thrown a stick of dynamite into the waterfall's pool, and solved the problem that quickly. But, it's been three weeks since the girl's death. The Tamassee river is protected by environmental laws and cannot be tampered with. The girl's parents bring in an engineer from Indiana who wants to erect a polyurethane dam across the river to divert the water from one side of the falls so the remains can be taken home for burial. This sparks conflict in the community between those sympathetic to the girl's parents and the environmentalists (from outside, no less!) who say that doing anything to the river violates federal law. Maggie doesn't want to be there because she's estranged from her father who is dying. And, she's torn because years ago she worked to get the river designated a protected area. Thrown in an old beau and a new beau, and they're conflict from the get-go. Rash's descriptions of the community were right on. But, there was something missing from this book. That spark his first book held. His third novel, World made straight (2006) comes out very soon. Can't wait to find that spark again.
Friday, March 24, 2006
news

Scrappy farm team demolishes Yankees in exhibition game: that's the Virginia Quarterly Review, thank you. Yet, I have no horse in this race. Giddyup. I bow out.
Thursday, March 23, 2006
the blame game
Merrily I read along until page twenty-one when the subject of my biography died. Yeah. I thought I was reading a biography. But it turned out that Frances Newman: Southern satirist and literary rebel (1998) was mostly literary criticism. Once again I've forgotten how I got onto reading about Newman. It's likely her name popped up in a book. I noted it, and then searched for more information. She's another forgotten southern women writer. Imagine that. Maybe it's that she was a librarian, and somehow I picked up on that. Her novels and short stories were imbued with feminist sensibility and were banned in Boston for daring to portray women as sexual beings. She never married, yet took young men as lovers. Sure, that is what I wanted to read about, but other than noting that curious idiosyncrasy, it was left unexplored. The biographical section was mostly summary of her literary accomplishments. Was it that there was not enough information for a full-scale bio?
Returning to my fascination with disease I pulled Who gave pinta to the santa maria?: Torrid diseases in a temperate world (1997) from my shelves where it sat for almost a decade. Some of the information was the same as 1491 (2005), except that this book didn't benefit from research of the last ten years. Desowitz claimed that it was Columbus, et al who decimated the population of the Americas, which we know after reading 1491 is simply not the case. Besides that, it was filled with fabulous information, like the search for the origins of yellow fever and malaria. Apparently malaria and hookworms kept productivity in the South down until at least the 1950s. Maybe that's another reason for our region's failure to flourish. But, the worst thing about it, and believe me, I'm one to notice, is the author's use of examples. Each disease scenario featured a male subject moving and shaking in the world and either getting infected or infecting others. I assume the author could never imagine what a woman's experience of the world was/is and decided not to go there. But, the fallacy of men being the only ones to spread disease is ridiculous. Well, that's nonsense. Technically though one could say it's all the fault of men who rape and then return home to infect their own women with the disease of the day.
After reading Pam Durban's story in Best of the South: From the second decade of New Stories from the South edited by Shannon Ravenel (2005) I checked my public library for her books. All set about with fever trees and other stories (1985) sat on my bedside table for weeks before I grimly turned to it. The grimness had to do with it being an old book with an unexciting cover. I felt that I had to read it and the other library book underneath it before moving on to something with a sexier book cover. Unfortunately, my attitude grew worse. I read the stores, but didn't understand them. How to explain it? They were above and beyond lil' ol' me. Maybe the endings were ambiguous? I never figured out much about the stories. And the trouble right now is that I can't get away from a line I read from Virgin suicides (1993) last night. Page 71 tells about Trip (the Josh Hartnett character):
With his vacation tan Trip must have looked much as he he did in late summer, circulating in his swimming pool, his nipples like two pink cherries embedded in brown sugar.
And with that visualization bouncing in my brain, it's hard to remember anything about books and reading. But back to All set about with fever trees and other stories (1985): Most stories were set in the south. There was class conflict; maybe a bit of food. Definitely some 'shine. Much unlike oatmeal, or even grits, her stories didn't stick to my ribs. Surely, it's not her fault. Each story was dense with atmosphere. Maybe this was a case of wrong book, wrong time, wrong reader. I wrote about what I read next in an earlier post: Going out (2004). It's cover didn't excite me.
After reading the first few pages of World to come (2006) I sighed and thought this is the kind of book I love to read. Why? There's a Chagall painting. That's key. It once belonged to a certain family, but was stolen from them. Benjamin notices it on display at a Jewish museum. There's no security. He rips it from the wall and takes it home; conveniently all other art lovers convened in the basement to hear the band. Benjamin has a twin sister Sara who paints. His mother was a children's book writer and illustrator. He writes questions for a Jeopardy-like quiz show. This is a family of creatives, and I luxuriated in it. The story goes back a few generations to Russia when Ben & Sara's grandfather, an orphan, met Chagall. They exchange paintings. Every chapter or so we're back in the present learning how Ben is dealing with the museum curator's accusations of thievery. The other chapters detail how Russian Jews were treated and how members of the intelligentsia disappeared over a short span of years. The writing is perfect. The characters are lovely. My problem was with the ending. I didn't appreciate it. But I'll say not more for this is a book not to be missed.
For something completely different I read Against the odds: Women pioneers in the first hundred years of photography (2002). It was good and added to my knowledge of the subject, but other than introducing me to new-to-me/unknown photographers and their work, I learned no new concepts. Now I want to learn more about Dorothea Lange, Louise Dahl-Wolfe (who lived in a cabin in the GSM for a few years), Gertrude Käsebier, and Laura Gilpin.
That brings me up to Virgin suicides (1993). I'm reading it because a Kirkus review of A taxonomy of barnacles (2006) compared the two, and it's really a shame that I had not read it. I therefore invalidate the comparison. Other than both featuring five or six sisters, the tone and concepts are completely different. Taxonomy is upper-middle class, Virgin is middle-class. Their settings are Detroit and Manhattan. They cover disparate decades. Religion plays a small part in Taxonomy (Judaism), but a huge role in Virgin (Catholicism). Isn't comparing Jews with Catholics rather bad form? I've seen the movie. I own the soundtrack; but can't find it. While reading it last night I wondered why I was reading it when I should pop the DVD into the box and watch it. Mistakenly I thought I owned the movie. I don't. It's just the book for me then. It seems the book clears up ambiguities scattered in the film. I've found that generally the case with the book-to-film phenomenon. This book is brilliant. At times I'm a bit annoyed by the narrators, the "we." But the narrative and plotting are strong. I like the way Eugenides puts his words together. I like the scenes he sets, the information he decides to share. And really, who can beat imagery like this: his nipples like two pink cherries embedded in brown sugar?
Wednesday, March 22, 2006 (that's right, two posts in one day!)
alaska to utah & around the world
Another lovely thing: While I was away Carolyn, an officemate, repotted last year's shamrock plant for me. It's been in a bright yellow ceramic pot for months, but I hadn't gotten around to bringing in dirt, etc.
Last I left off, I was into And she was (2006), fiction set in southwest Alaska. Did I say I ended up liking it a great deal? The back and forth between the white narrator and the native women worked out better than I thought. That lead me to scour my shelves for books about the Bering Sea land route. Naturally I thought of 1491: New revelations of the Americas before Columbus (2005). I bought three copies at christmas. One for me, one for Dad, and one for father-in-law. They've both read it and enjoyed it. Lord, it was lengthy. There were times when I wasn't sure where the author was headed. It was well-written; no stumbling over grammar or sentence structure. And I absorbed a great deal of information. Basically, Mann wrote the book because there were all these new theories about the pre-columbian world that were not being taught. His child learned the same incorrect information about the origins of north & south american indians. Columbus et al didn't cause massive deaths when they came to the Americas because epidemics had already wiped out millions of people populating those land masses. And, there's new evidence that the Americas were settled millennia before western europe. Jungle-covered population centers in central america were discussed. But one of the most interesting arguments Mann made was that the Amazon and other "natural" areas, had been tended and altered to suit the needs of their inhabitants. That throws this idea of "virgin wilderness" out the window. Environmentalists and ecologists are not happy about that. Really an excellent book, if rather long. I recall lots of notes in the back, and an extensive bibliography.
In the spirit of pioneering and western exploration, I next turned to one of the books I ordered from my book club months ago: Faith and betrayal: A pioneer woman's passage in the West (2005). It's a well-done family history/biography type thing. The author's ancestress left England to come to Utah in the 19th century. She converted to mormonism and traveled across the Atlantic to New Orleans, took a river boat up to Iowa, and then wagon-trained it west to the Great Salt Lake. Ultimately, she felt like she was lied to though. Mormons looking for converts in England downplayed the whole polygamy thing and didn't mention how the only way women got to heaven was via a husband. There was a great deal of social history in the book, and a lot of information about mormonism. Denton's ancestress was a very wealthy woman, but she lived in poverty because the church took her money, yet another thing she didn't know about. Eventually she escaped Ogden, where she was told to build a home, for California. She worked as a midwife. One of her sons remained in the church, but the rest fled asap. Since I was raised in a christian fundamentalist tradition, that I've essentially distanced myself from, I feel free in questioning a lot of their beliefs; oh heck, let's just go right ahead and say that I think they're loony-tunes. Denton may have made an excellent point early in the book: mormonism's patriarchal organization and orientation is very similar to Islam.
One of my favorite books this year is Eat, pray, love: One woman's search for everything across Italy, India, and Indonesia (2006). Sometimes I find good things at B&N. As usual, I picked it up for it's cover. Once I realized who wrote it, I had to buy it. Gilbert's Last American man (2002) fascinated me and I enjoyed Stern men (2000) as well. And seeing how she travels and eats a lot in this book, it had to be mine. It's divided into three sections corresponding to time she spent in Italy, India, and Bali. She finds an apartment in Rome because she wants to learn Italian. A recent divorce left her depressed and the one thing that made her happy was speaking Italian. She studies, and she eats and eats, ultimately gaining twenty pounds, fifteen which she said she needed. She makes friends, and comments on Italian culture. Then she's off to her guru's ashram in western India. That was probably my favorite part. She describes her struggles with certain parts of her routine there and again, makes good friends. Then the part in Bali was lovely as well. Her writing was witty and candid and very easy to read. It was like she wrote it especially to me, which I know she didn't. In Bali she spends time with a healer, actually two healers. One is an almost elderly man. She always asks his age, and he changed it each time depending upon how he felt. The other healer is a woman who gives massage and brews up great potions. Gilbert helps her raise money to buy a home. There's all sorts of love in this book, self-love, love between friends, and romantic love, in the end. Really, her life is pretty inspiring and it illustrates, both life and book, how you might think you're at an impasse, but events conspire for pleasantries in the end. I'm sure there's much more I'm leaving out. It's on the NYTimes bestseller list. I'm not the only one taken in by it!

Wednesday, March 22, 2006
year of scarlett thomas
The past week being my vacation that turned into a miasma of sinus/head cold muck allowed me to read a dozen or so books. More about those later. 2006 is the year of Scarlett Thomas. I've read all but one of her books now. Picking out her themes is easy. And her characters share similar characteristics: Usually loners who like to solve puzzles or who are good at math. Main characters are female; they repress their special talents. Going out (2004) is about Julie who failed her A levels to stay home and work at a pizza parlor. Her best friend lives next door. He has XP, a rare allergy to sunshine that prevents him from leaving his home and leading a "normal" life. Eventually Julie and her other friends make a plan to take Luke, aka XP boy to Wales to meet a Chinese-American healer. It was good, but I really like her mystery series.
I read the trilogy straight through. It's nice to do that. It's been a while since I've been obsessive in just that manner. Couldn't get enough Lily. She left London to come home to Devon where her mother pressured her to accept a lectureship teaching crime fiction. It happens that she solves crimes, too. The draw for me was Lily. She's a great character. Probably one of the best younger mystery character's I've read in a while, or at least, ever. She talks about her days running about London's rave scene, the other characters are hipsters or chavists (new word learned from Vogue last night), mostly creative types though. In Dead clever (2003) Lily gets to know students in her literatures and creative writing classes. A few don't show up for class because they're dead. She is drawn into solving the mystery of their deaths. There are drugs, new age cults, and human experimentation in this one. It was fairly easy to figure out who the bad guy was. Thomas gives good clues so that occasionally I was ahead of Lily and grew impatient with how slowly she put her clues together. In your face (2004) takes Lily to London where she responds to the call of a journalist friend whose stalking story subjects are murdered. We meet her dad and his semi-live-in Star, a psycho pathologist who studies murderers. Then in Seaside (2005) Lily returns to Devon, or near Devon, where she rents a cottage by the sea. A hunky American man takes the cottage next door and romance ensues. A successful writer of thrillers hired Lily to determine which twin is really dead, Laura or Alex. It seems that Laura left the suicide note, but then the living twin claims to be Laura. This was tricky, and confusing. I finished it this morning and was unhappy with its resolution. It was too convoluted. I kept waiting for another twist, and it never came. The change in fonts troubled me, too. Not that it changed in the book, but this third book was set in another font, different from the first two. Silly things like this put me off.
Monday, March 13, 2006
one literary life & strong Alaskan women
Annie Proulx writes about "conservative heffalump academy voters" screwing Brokeback out of multiple Oscars.
Taxonomy of barnacles (2006) improved. The plot focused too much on characters' love interests. And, the boring thing is that most of sisters thought that the way to make their mark on the world was to marry. Beth had a grand idea for a new evolutionary theory and Benita sprung a monkey from the zoo to replace her father's favorite who escaped their home years ago. Then there was too much about baseball. Though this book is not my favorite, I look forward to reading more of the author's work.
What sparked my interest in Jack London? Oh, reading the biography of another writer who deals with Alaskan themes. Somewhere in my reading of radical circles and Socialism, I knew that London was a Socialist. he wrote and lectured on the subject, but ultimately was not so much a hard line party member. I knew little about London before reading the biography. He grew up poor and worked in factories and as a seaman. His success was astonishing. His work is sometimes interpreted as being the first to create strong female characters, though making them realistic or authentic was always a problem for him. And, he did more to bring attention to the plight of the working class than any other writer. A bit of a racist who much like Hitler was influenced by and misinterpreted Neitschze, London promoted the superiority of Anglo-Saxon men in his work. Naturally I was interested in his time spent in Alaska; a year, maybe. He was a workhorse of a writer though. He pounded out at least 1,000 words each day. He was always in debt and managed his money poorly. Quickly growing tired of the notoriety of his celebrity after he divorced his wife for his lover, he retreated to northern California near Sonoma and bought acreage. That wasn't far enough away from the press, so he and Charmian, wife number two, built the Snark and sailed from San Francisco to Hawaii, thorough the Marquesas, the Solomon Islands, and ended up in Australia. He died rather young. His physical problems were astonishing. Then, too, he was an alcoholic. Jack London: A life (1997) was trouble-free reading. The writing was great. Organization was right on. Copious notes documented the author's statements. And, it didn't seem that he left anything out. Plus, existence of the epilogue thrilled me. I always wonder what happened to the subject's family, spouse, etc. Some biographers don't follow up, but Kershaw did.
At first I wasn't sure I'd like And she was (2006). The Alaskan setting, the Aleutians to be exact, appealed to me. But, the story flip-flops from 1986 to various centuries; I don't normally love that. Brandy grew tired of waiting for her hunky fisherman boyfriend in Anchorage, so she took the three-day ferry trip to Dutch Harbor to live there instead. She lives in a cabin, works at a bar, and reads Aleutian history as she waits for her fisherman's boat to come in. Alternately, native characters from 1741 are introduced. Women and children starve since village men left to find food. With a ban on women touching weapons, they cannot feed themselves (a bit Clan of the Cave Bear). More children die. Three women break the taboo and kill a whale for their village-mates. Years pass, and an elder woman calls upon three young women to kill the shaman. He prevents the villagers from being inoculated from smallpox, which the Russians brought. The stories converge, but I'm not to that point, yet. I have an idea of where it leads. It's good. I'm learning some new information.
Thursday, March 9, 2006
reading inspired OCD
Yesterday Marie counted steps. There are 21 steps between each of the floors in Sherrod Library. I accused her of the beginnings of OCD. Later, I admitted that sometimes I count steps. Or count the seconds between the changing of a red light to green. But I'm not a compulsive hand-washer or checker of things. Neither of us are worried that we are are on the brink of developing a debilitating and time-consuming tic.
It's ironic then that A taxonomy of barnacles (2006) brought out serious counting issues for me later that night. The physical text distracts from my reading the book. Around page fifteen I figured out the problem: There are far too many word breaks, 183 unless my eyes crossed and I miscounted. I was a woman possessed, at least through the first two chapters. I made myself quit. A few more complaints: there is occasional subject/object-verb disagreement, the sentences are past tense far too often, the perspective shifts within a sentence or two, and then there was poor editing "Dizziness turned quickly to disorientation when Trot approach the mantel. (15) What else? There are six sisters close in age and their names begin with B. Telling them apart grows difficult. Maybe the one last thing that irritated me is a jump in time. In one sentence Benita is 13, and in the next she is 10. It's a bit disconcerting.

Frankly, I brought the book home for it's cover. Then too, the author is attractive. Yet those are trivial reasons to like and read a book. Despite its problems, like the slow pacing and its stream-of-conscious narration I really like it; if I can get over my urge to edit it with pencil as I go.
But what is it about? Rich New Yorkers. A family of six daughters. The father is a Darwin fan and encourages competition between his children. He announces that they have a week to compete for his money. The daughter who immortalizes the Barnacle name will be the sole beneficiary of his estate. The characters are quirky. Their behavior is unusual as are their interests. It reminds me of a Wes Anderson film. Reviews of the book call it a Victorian tale of manners and a cross between Little Women (1868) and The virgin suicides (1993). I'm not getting any of that. Why is it that a book about wealthy people living on Fifth Avenue equals manners? Do rural settings preclude manners? And the sister-thing... maybe it's more VS than LW. Definitely not a LW vibe going on there. Yet.
Again, despite the problems I mentioned, I am enjoying it. It may not sound like it. If I hated it and found it useless, I would not be carrying it everywhere in case I have a few moments to dip into it. Claire Danes blurbed it and Niederhoffer thanks her in the acknowledgements. Already it was optioned by Revolution Studios. Imagine the casting.
Wednesday, March 8, 2006
alaska to tortillas
Reading the McCourt book left me with a warm feeling in my heart towards teachers. It reminded me of the inspiring ones that taught me english, history, and journalism. Anyone can appreciate this book. I liked most parts. Occasionally he wrote about specific students; mostly boys, but sometimes a gal. There were two years he spent in Dublin at Trinity. That chapter was filled with local color and fookin' appeared here and again. Leave it to McCourt to stir the ribald in a lass. Parting with Teacher man (2005) was sad, but there are always other McCourt books to look forward to. And, I haven't read his first two either, so I'm sure to get my fill of his prose.

Then there was the biography of Alaska's first novelist, Barrett Willoughby: Alaska's forgotten lady (1994). Born in Wisconsin prior to 1900, Florence Barrett changed her name to Barrett Willoughby at the suggestion of her editor; she'd likely get published easier and have a better time of it in the press if everybody thought she was a man. She's responsible for helping create the myth of romantic Alaska, whereas Jack London wrote about struggles and harshness. Several of her books were made into movies like Rocking Moon and Spawn of the North. Willoughby lived in Katalla for almost twenty years, after her father, an adventurer, moved the family North. She spent the remainder of her life in San Francisco. Yet, she returned to Alaska yearly for research. She was criticized by her biographer for wanting to appear feminine; she took great care with her clothes and usually fished in a skirt.
Putting down Tortilla curtain (1995) was difficult. I'm at least two-thirds through it, or more. But it was 2 a.m. and I did have to work today. It's fabulous. Set in Topanga Canyon in the 1990s, the book contrasts the illegal experience with white privilege.It begins with an Acura-driving, recycling hiker and nature enthusiast running over an illegal Mexican man. Candido isn't killed, only seriously injured, and manages to hobble off into a bush to rest before returning to where he and his 17 year old pregnant wife America are camping. Our white boy talks to the lawyer in his soon-to-be-gated community about whether he should report the accident or not. Boyle makes it difficult to like any of the white characters. I'm not sure if he does it on purpose or if they're just the kind of people I don't like anyway, regardless of color. Our writing naturalist, bless his heart, is cardboard; a green liberal stereotype. Okay, he's probably the closets thing to a good guy, other than Candido (though he takes out his frustrations by slapping around America), but I have little sympathy for him or his situation. It makes me wonder how on earth he got hooked up with Kyra; they are fairly opposite and don't share priorities at all. She drives a Lexus and sells real estate; agents seem so money hungry and status-conscious. Kyra is particularly interested that property values don't plummet when the numbers of illegal Mexican's hanging out on street corners skyrocket. The white folks aren't the only bad guys, there are one or two nasty illegal characters as well.Then there's the problem with the coyotes. Fencing their backyard doesn't save Kyra and Delaney's pets from being coyote fodder. Maybe the worst thing about the book is that I cannot imagine a happy ending for any of the characters. My stomach is turning a bit. Before I started Tortilla curtain I knew there was a screenplay and the movies was in production. One of my least favorite actors stars: Kevin Costner. At least I'll have the book. Seeing the movie is not required.
Tuesday, March 7, 2006
it must be the Irish brogue
The first thing a writer does to get on my good side is applaud librarians. Frank McCourt's remarks might be snide though. He writes:
University librarians poked me when I snored behind a stack of books. One librarian told me snoozing was strictly forbidden. She was kind enough to suggest that out in Washington Square Park there was no end of benches where I could stretch until the cops came. I thanked her and told her how I'd always admired librarians, not only for their mastery of the Dewey Decimal System, but for their helpfulness in other areas of daily living. (39)
The other bit he writes about librarians is when he takes his class to the library to work on their research paper. Again, I am not sure whether his meaning toward the librarian is snide or not:
I take my students to the library so that the pleasant enthusiastic librarian can show them how to find information, how to use the basic tools of research. The listen to her and look at one another and whisper in Spanish and French, but when she asks if they have any questions they stare, embarrassing the librarian, who so wants to be helpful. (177)
Teacher man (2005) is not about librarians though. It's about teachers; one particularly, Frank McCourt. Before the insane success of his memoirs Angela's Ashes (1996) and 'Tis (1999), he taught English in public high schools around New York City. I saw him give a reading for this book on Book TV; must have been in DC or NYC. I was taken with his verve, anecdotes, and simmering senior sexuality, and knew I'd have to read Teacher man for myself. I'm reading its second half. Something I've gotten used to but that Ian can't stand--he and I discussed this while he read McCarthy's No country for old men (2005)--is the lack of quotation marks to signify dialogue. Otherwise, it's a delightful book and a tribute to all teachers.

Monday, March 6, 2006
four in one
How did I like Any bitter thing (2005)? Wood's writing was snappy, so I never felt bogged down in the story. Lizzy has an accident. A fourteen year old hits her with a car and drives on. A Samaritan of sorts, pulls her away from the center line where she fell, and calls an ambulance. While hospitalized, Lizzy is visited by her dead uncle, the priest who raised her when she was two until she was taken away from him at age nine. Lizzy recuperates and returns to her school counseling position. Prior to the accident, her photographer husband planned to leave her for another woman, or just a more exciting life in Boston rather than the boring existence they share in small-town Maine. He stays. They work on their relationship. Lizzy never visited her uncle's grave, so she stops by the diocese to ask where he's buried; she was told PEI by her evil aunt; no relation to the uncle priest, but the Chancellor says they have no clue where he's buried. In her search for her uncle's grave she unearths decades old secrets. I would read Wood's work again.
Next I jumped into a real Nasty (2005) world, the world of Simon Doonan. He's a window dresser who came to America, lived in LA and now resides in Manhattan. His memoir isn't quite chronological. But it's mostly fun. He describes his adventures and misunderstandings and has a ball all the time. It's sweet and entertaining. Maybe one chapter gives details of his career, and that is what I was most interested in learning more about; his window creations, but it was not to be.
Parts of Wickett's remedy distracted me. The text is justified toward the middle so there is space on the outside edge of the page for notations. At first I found them charming. But as the book went on, I ignored them. Probably wasn't supposed to, but those are the breaks. The first bit of the book follows Lydia, an Irish-Catholic shopgirl who lives in Southie, Boston. She works the counter at Gilchrist's department store. A man asks her to lunch, but barely speaks to her. Then she receives letters from him. He declares his love. They marry. She quits her job and tends to their lovely apartment. He has a dream about Wickett's Remedy. he dropped out of medical school once he realized the futility of medicine. But with Wickett's, he hopes to send a letter along with his remedy for he believes the letter will cure more than the remedy, which is mostly sugar water and other flavorings. Lydia concocts the recipe. Harry contracts with a soda jerk so that his remedy is sold in drug stores. Harry dies. Lydia returns home to Southie, where she doesn't belong. The Great War is at hand. Her beloved older brother Michael ships out. She volunteers at a hospital one day then sees an advertisement in the paper wanting nurses for an expire mental study on Gallups Island. She goes despite her parent's protestations. At least half of the book's events take place on the island where naval prisoners are going to be infected with influenza so the doctors can study its epidemiology. Interspersed with the action are newspaper clippings from the era, and letters in the future. We learn that Driscoll, the soda jerk, never kept his promise to Harry Wickett. He stole Wickett's Remedy, added carbonate, which was Lydia's suggestion, and sold it as a soda. QD Soda was a hit and he was very wealthy in the end. Lydia wrote to him about his obligations to her, but he never responded. The writing was excellent. The story was okay. It seemed livelier in the first bit because of the Lydia and Harry love story. Goldberg's descriptions of the time period were quite good; there was never any doubt about where I was, nothing say from the 1940s appearing that jarred me out of 1918. And, I quite liked how Goldberg included several different bits into the book. Besides the newspaper articles of the period, there were letters, a QD fan newsletter, and snatches of dialogue from anonymous speakers.
Tiny ladies in shiny pants (2005) was not fiction, like I thought. It's mostly personal essays about rape and Kobe Bryant. Or why Jewish women are so sexy. Then there's why she hates dogs, and is not afraid to admit it. She writes about living in LA and googling herself; and about growing up as the only white kid in her public school district on chicago's South side; she was down and thought she was black. Reading this book was so much fun. Another thing: Soloway is a feminist. She shares lovely insights about women and men and society. Toward the end she shares tips for those who want to work in Hollywood. First, she says, you gotta have a product and that means you've got to write. Can't wait to read more of her work, either.

Friday, March 3, 2006
to be a doormat you gotta lay down first

At one point in An unreasonable woman: A true story of shrimpers, politicos, polluters, and the fight for Seadrift, Texas (2005) Wilson takes up the plight of the chemical worker. Dozens of them call to tell her the horrors of their workplace at the Formosa plant. Wilson is working to prevent a second Formosa plant from opening. Naturally, the local commissioners get riled up and accuse her of having an agenda. First she was for the environment, and now she wants pinko-commie unions in the plant. I guess some folks don't realize how it's all related; the environment and hazardous working conditions. Here's a paragraph on what she learned:
One OSHA inspector admitted the problem, saying worker injury was on of the great "unders" of American health care. It was under-recognized, underreported, undercompensated, understudied, and underprevented. A hundred thousand workers died a year, and another hundred thousand were hurt. Occupational disease was clearly one of the most significant causes of premature death in the country, although it was not recognized as such. More workers died from illnesses they got at work than in car accidents (188).
Then I read a saying I'd not heard. It was in this context:
But he wasn't at the fish house to tell me that a union would right every wrong. Nope. That depended on the workers. The members. A union was only as good as its members. "You know what they say," Sonny said. "The amount of oppression is about in direct proportion to what you will put up with. In other words, to be a doormat, you gotta lay down first." (216)
Reading about Wilson's life inspired admiration of her accomplishments, but didn't motivate me to change the world. There were helicopters flying around her house in the night, shooting bullets at her property. Her boat was sabotaged once or twice. And all of her frustrations are limned in the book. She thought her hunger strike accomplished something; the plant was ready to negotiate, and then the next thing she knew, after signing her name to an agreement, the company turned around and said no, they weren't going to do that after all. She learned never to trust a company. And that we have laws, but they are meaningless in the face of big money. Wilson pointed out how a poverty-stricken fisherman was hounded by government agencies at gunpoint and fined $50K; way out of proportion for his crime, while Formosa got away with discharges and emissions and never paid fines levied against them; they legally wrangled and go them dismissed. Oh the inequalities.. So this wasn't a bright and cheery book. Oh no. But it was a fast-moving narrative and Wilson's colloquialisms and down home roots come through with no problem.
Thursday, March 2, 2006
bead books
Marie renewed my interest in beading and jewelry making. When we were in San Antonio we spent far too much at Originals, a lapidary store with fabulous stones, in historic La Villita. Three bead books arrived in the mail yesterday: Bead fantasies I (2003) and II (2005) and World beads (2005). The other two are backordered. I liked the techniques described in the first two books, but don't care for the crystal beads the author/designer used. But World beads (2005) is something to salivate about. The photos and styling are delicious, if one can say that about beads. Beads and styles are divided by continent. Stone symbology is discussed. Plus, there are plans/patterns for making necklaces from Oceania, Bhutan, and almost anywhere one imagines. Plus, this book included a resource list in the back and turned me on to bead suppliers I never knew as well as the Society of Bead Researchers. SBR has a list of bead research dos and don'ts and their own journal. Almost forgot another book I got was Sew stylish (2006). It's mostly about embellishing mass-produced items or recycling thrift-store items. Few of the projects met my specific sewing goals, but I loved the aesthetic. The photography is great, and the projects imbue a style I appreciate.
Still reading the Diane Wilson memoir. Her writing is lively and she turns a mean phrase. The book flows and is well-written. The only trouble I'm having is remembering or placing characters. I also appreciate her feminist or womanist orientation. She thinks most of the problems with environmental groups is that they're led by men.
Wednesday, March 1, 2006
natural born killers are we
It's all about sex. Murder, that is. I learned a lot about murder from The murderer next door: Why the mind is designed to kill (2005). First, men are the murderers, and they usually kill other men. Why? Access to fertile women. It's all about genes and making sure their DNA is passed along. Fueling their motives is the desire for beauty, youth, and fidelity in a mate. Studies were done. Everybody dreams of killing someone, but they don't because they wouldn't get away with it. Others are Christians and they credit their beliefs with preventing them from killing.

Buss boils our drives down to those that stem from evolutionary psychology. Our brains and bodies haven't caught up with the times. We have cavewoman mentality. Women fear rape and murder by strangers, when in fact we are more likely to be raped and murdered by someone we know, someone from our group. Buss wrote:
In the United States, 88 percent of white murder victims are killed by other whites, and 94 percent of African American murder victims are killed by other African Americans (238).

Humans are preoccupied by competing against one another to find and keep suitable mates. And somehow in there I learned that women prefer men who brought home meat. I stopped and thought about that. Really? I thought women were happy with their gathering diet. I thought men were the ones who wanted the meat. It only makes sense. Meat was only eaten by men, especially when it was scarce. There was not enough available for women and children.

I admit, reading this book was odious. But only because it reeked of cigarette smoke. Then I nodded off somewhere in chapter eight or nine. The churros did it. I picked the book up again and finished the last chapter. What I learned is that women are most likely to be murdered within six months of leaving their partners. After that, the likelihood of murder goes down, but a good stalking can last at least 12-18 months. And you guessed it, men are more likely to stalk women than the other way around.

Sometimes women kill. Mostly it's because they fear they will be killed. When hubby is asleep or passed-out, that's when they strike because their success rate increases. If she tries to kill him while he's awake, it's more likely that he'll defend himself and kill her in the process. This is why battered women syndrome claimants rarely get their cases ruled self-defense. Then there are women who kill their children to please a potential mate.

Another item of interest: Buss cites research on differences between Northern and Southern men. It all stems back to the early days of the founding of our country. The Southern States were settled by men from herding traditions: Ireland, Scotland, and Wales. Land owners and those with a flair for farming settled in the Northern States: Puritans, Quakers, Germans, and Dutch. The herding tradition brought with them a "culture of honor," wherein violence is provoked by insults to status.

Lastly, Buss claims that evolutionary psychology holds all the answers. We've always been violent, murdering folks. Violence is nothing new. We shouldn't blame the media because cultures lacking media saturation are just as violent.
After all of that I started An unreasonable woman: A true story of shrimpers, politicos, polluters, and the fight for Seadrift, Texas (2005). It's by Diane Wilson. She's an environmental activist and fourth-generation shrimper who got involved in the fight to prevent plastics companies from polluting the land and water in her county (Calhoun). Her name is spoken in the same breath as Erin Brockovich and Karen Silkwood. I've read up to the first meeting where she has a lawyer come in from out of town to explain how folks go about getting public information from the EPA.